Washington, D.C. is certainly an attraction for leisure travelers, as well as policymakers, interest groups, and journalists. So, its hotels largely benefit from a steadily high demand for their services almost all year round. However, this also keeps their prices way above the larger metro area's averages. Therefore, those eyeing a visit to the nation's capital but also dreading the high accommodation costs in town settle for hotels with easy access from just outside. Here are some of the best places to stay at for the likeminded:
Americana Hotel / Arlington
For as little as $120 per night, you can enjoy free parking, breakfast and a clean room in just walking distance from the Crystal City metro station. A speedy and predictable transportation to anywhere in D.C., that is. True, Americana Hotel is not for those looking to feel like royalty but it offers a decent accommodation for a fairly inexpensive price. And the staff here definitely deserve more than what the facility is awarded with on Yelp, a four-star rating. Super friendly and helpful people.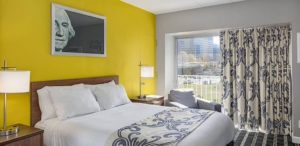 Clarion Collection Hotel Arlington Court Suites
Let's say you cannot disregard Arlington's charm but you are looking for somewhere else to stay at, more modern and bigger than the Americana Hotel. Then, Clarion Collection is a fine match for you. And, it might as well be cheaper. Offering deals like $111 per night for even double bedrooms, this hotel is just two blocks away from the Court House metro station. Besides free breakfasts every morning, it also provides free evening meals on Tuesdays and Wednesdays. Parking, though, costs another $15 per night.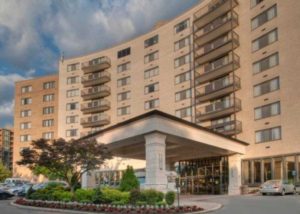 Hilton Garden Inn Bethesda
Here at this major chain's Bethesda location, visitors can enjoy a modern hotel with clean rooms, free breakfast, a spacious lobby and a gym in close proximity to a subway station. Look for deals online, like on Booking.com and you will see that it is possible to buy all this comfort for $125 per night. However, you should also take into consideration a daily payment of about $20 for parking. Even with that, it remains cheap for a service as good in the area.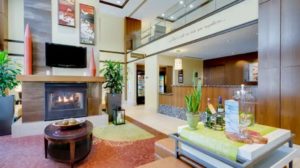 Courtyard Silver Spring Downtown
And in Silver Spring, what you are looking for – affordable stay and easy transportation to D.C. – could not be better supplied anywhere else than this hotel by Marriott. Accessible on foot from the Paul S. Sarbanes Transit Center, where there are a train station and a subway station, as well as many bus services, it can be booked for 119$ per night. And it takes less than half an hour to reach downtown D.C.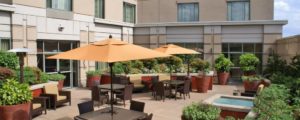 Holiday Inn Express Washington DC Silver Spring
If you, however, take a slightly longer but still tolerable walk (for about half a mile) or wait for a free transportation to the closest metro station, Holiday Inn Express, too, can suit all your preferences in Silver Spring just outside D.C. For about $110 per night, you can book an Executive King Room at this facility, where you would enjoy all the amenities that are possible for this price. Parking also costs only $10 a day.