Hitting the lanes in one of Washington, DC's bowling alleys is a great way to spend your spare time. Whether you're after the regular 10-pin or duckpins, there's an option for everyone.
Knock down some pins, have a Sloppy Joe, and finish with a glass of beer at the best bowling alleys DC has to offer.
Bowlero Bethesda: Bowl Like a Kid
A short 20-minute drive from downtown DC, Bowlero Bethesda is more than just a bowling alley. With its retro aesthetic, this spot is perfect for both those of us who are kids at heart and people with fond childhood memories of the 80s and 90s. 
This bowling alley has two sports bars equipped with flat-screen TVs and cocktails, making it the perfect venue to watch live sporting events. There's also a large arcade center where you can play some retro and modern video games. Make sure you have the munchies because there's delicious food, signature cocktails, beers, and wine in the full-service restaurant.
💰 Price: $112 for 2.5 hours, including shoe rental
🌎 Website: Bowlero Bethesda
📌 Location: 5353 Westbard Ave, Bethesda, MD 
White Oak Duckpin Lanes: Travel Back to the 60s
If you are looking for something different from traditional bowling, you should try duckpins. Duckpins are shorter and broader than regular bowling pins. White Oak Duckpin Lanes in Silver Spring is known for being the only inclusive duckpin bowling alley within the DC area. 
First opened in 1959, this bowling alley is virtually unchanged. There are no computers, so you'll have to keep score by hand (no cheating!). There's also a video game and a keno area if you want to play before or after you bowl. The venue serves a wide variety of delicious dishes, and they have several beers on tap.
If you plan to play at White Oak Duckpin Lanes, we recommend you head over on a Saturday night for a game or two of cosmic bowling, which features disco lights and music, from 10 pm until 1 am.
💰 Price: $6 per person per game or $30 per hour per lane, excluding $4.50 for shoe rental
🌎 Website: White Oak Duckpin Lanes
📌 Location: 11207 New Hampshire Ave, Colesville, MD
Bowlero College Park: Popular Among Teens and College Students
Frequented by teens and college students in the area, Bowlero College Park features 20 duckpin and 20 regular 10-pin bowling lanes. The bowling alley also has several arcade games and billiard tables, so that you can take your fun night out with friends or family to the next level.
This venue's extensive food and beer menu goes perfectly with not just bowling but also with watching live sporting events on their flat-screen TVs.
We recommend hitting Bowlero College Park on a Tuesday night when the bowling alley offers unlimited extreme glow-in-the-dark bowling from 8 pm. What could be better for a first date or just having fun with your friends?
💰 Price: $115 for 2 hours, including shoe rental
🌎 Website: Bowlero College Park
📌 Location: 9021 Baltimore Ave, College Park, MD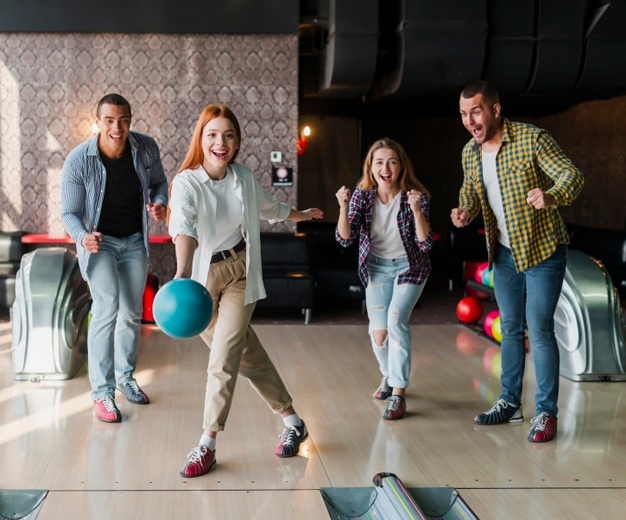 Potomac Lanes Bowling Center: Bowling Fun for Everyone
If you are looking for a bowling alley that has something for the whole family, Potomac Lanes Bowling Center is the spot for you. This location offers a unique family experience, including 30 certified bowling lanes and a snack bar. Birthday parties and other events are welcomed, and various packages are offered for any occasion. 
Plus, if you want to learn how to bowl like a pro, the bowling alley has an onsite store where the friendly staff can help you choose the best bowling gear, shoes, and bowling balls. You can even take one-on-one professional bowling lessons for an additional cost to help you reach that perfect 300 score.
💰 Price: $12 for unlimited bowling, including shoe rental
🌎 Website: Potomac Lanes Bowling Center
📌 Location: 1310, McChord St, Washington, DC
The Eleanor: Intimate Bowling Experience 
If you are looking for a quieter and more intimate location to bowl, you should check out The Eleanor. This neighborhood lounge, bar, and grill offers a casual dining and drinking experience while you bowl. Happy hour runs from 4 pm to 7 pm, Wednesday to Sunday. 
We loved this bowling alley because it features two mini-bowling lanes built from wood reclaimed from the now-defunct Sky Top Lanes in Connecticut, New England. Aside from bowling, this venue also hosts arcade video games, pinball machines, and skeeball so that you can game all night to your heart's content.
💰 Price: Free, upon purchase at their restaurant, depending on the availability
🌎 Website: The Eleanor
📌 Location: 100 Florida Ave NE, Washington, DC
JB Myers-Henderson Hall Bowling Center: Glow in the Dark Bowling 
Enjoy a one-of-a-kind bowling experience at JB Myers-Henderson Hall Bowling Center in Fort Myer. This 20-lane bowling alley is open every day, but this spot truly gets interesting on Friday and Saturday nights. That's when they pump up the music and turn on the glowing lights. Both kids and adults alike will enjoy the light show and pins that glow in the dark. 
JB Myers-Henderson Hall Bowling Center is also known for its burgers and fries that are served grab 'n go style as you bowl, so you don't need to interrupt your winning or losing streak to eat.
💰 Price: $6.50 per lane, including shoe rental
🌎 Website: JB Myers-Henderson Hall Bowling Center
📌 Location: 224 McNair Rd building 411, Fort Myer, VA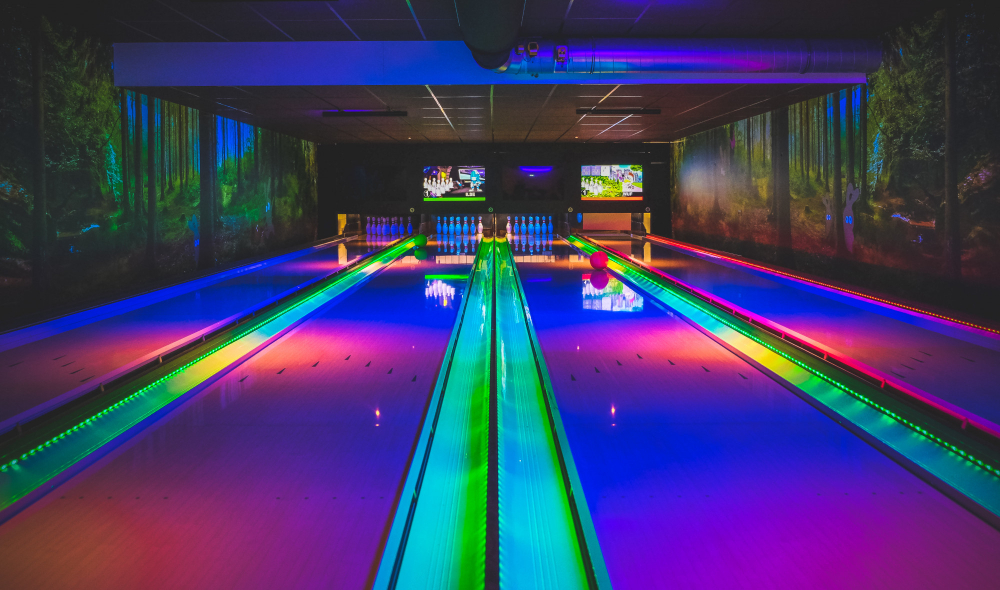 ---
You won't feel like you've been bowling one gutterball after another when trying out some of Washington, DC's great bowling alleys. From pins that glow in the dark to duckpins, you'll find plenty of unique bowling alley experiences in the capital. Now go hit the lanes and aim for that perfect 300! 🎳 ✨