Washington, D.C. isn't exactly the greatest place to live for a winter-sports-enthusiast since the nation's most popular ski resorts are at least half the country away. Still, though, residents of the greater metro area could land themselves at a fine getaway destination in less than three hours.
True, it won't be like Aspen or anywhere else on the Rocky Mountains but if convenience is a quality you seek in your winter vacations, the following establishments would be your best bet: 
Liberty Mountain Resort
Just southwest of where the Union and Confederate forces fought the American Civil War's turning point in Gettysburg, Pennsylvania, over 150 years ago is the closest ski resort to downtown D.C.: Liberty Mountain.
It is as close as having almost no need for any planning to be here. Imagine leaving work on a Friday after a busy week and being so much in need of a quick fix, both physically and mentally, you can just get behind the wheel and drive to 78 Country Club Trail Carroll Valley, PA. You will be there in the next hour.
Of course, don't forget to check with the reservations desk at 717‑642‑8282 whether they have vacant rooms to accommodate your casual visit.
Fully expect to chill out at one of the 16 trails and three terrain parks complete with snowmaking coverage. You can rent all the equipment you'd need for whatever is your passion; skiing, snowboarding, snow-tubing, etc. Its childcare center takes good care of the little ones, if that's what you'd need, as well. Honestly, what else should it feature to be on your itinerary?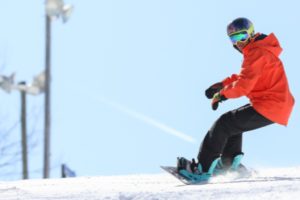 Whitetail Ski Resort 
If you are still not satisfied with what is available at Liberty Mountain, you must be more on the professional side compared to most other folks who are into skiing just for fun. And if that's correct, there is a better alternative almost as close to home.
Whitetail Ski Resort, just 90 miles from D.C., is on Two Top Mountain at 13805 Blairs Valley Road, Mercersburg, Pennsylvania.
With a vertical drop of 935 feet and 23 trails, it is the largest resort within a two-hour drive from the capital city. It has a total lift capacity of over 12,000 skiers per hour and keeps nobody waiting for longer than they should to embark on the next adventure downhill.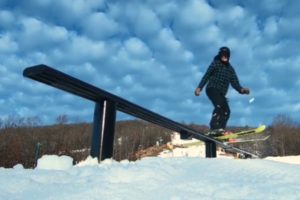 Snowshoe Mountain Resort
Oh I see, you are not a day-tripper and certainly won't settle for just a good ski resort. What you want is a vacation to always speak of and drive others to the precipice of jealousy. I have just the right thing for you, too. And it is not as far as Utah or Colorado, either!
What you are looking for is in West Virginia. With 60 trails and a vertical drop of 1,500 feet, Snowshoe Mountain Resort is the largest of its sort in the entire mid-Atlantic region. And it gets the heaviest, longest snowfall of any of the ski resorts that are within driving distance from the District.
It has an average annual snowfall of 180 inches! Compare it with D.C.'s 15 inches and you'll reach an accurate estimate of what the environment should look like here.
With an experience of nearly half a century in the market of hospitality and entertainment, the Snowshoe owners have also been wise enough to build an entire mountaintop village that has everything any visitor may need besides the slopes. It is totally a world unto itself and makes any stay perfectly convenient.
It includes shops, restaurants, bars, a spa, an indoor playground, a swimming center and a variety of hotel rooms and condominiums. Activities include snowboarding, snow-tubing, horse-drawn sleigh rides and much more besides downhill and cross-country skiing. It is at 10 Snowshoe Drive in Snowshoe, W.Va.