Not all steakhouse chefs are equally skillful. Nor are steaks themselves. And one must choose them both wisely for the best beef experience. Luckily, the District is not a city where steakhouses with amazing chefs cooking amazing steaks are in short supply.
No, this is not an article only about those fancy, upscale restaurants where a single steak costs a fortune. Not everyone can get their hands on a filet mignon at an upscale restaurant, but does it mean they cannot eat a fine steak in town, too? Certainly not! It is entirely possible. That, however, depends very much on their ability to locate a steakhouse that is both brilliant and affordable.
Now folks, I suggest you read on to rely more than on your own luck in that pursuit.
St. Anselm
Here is the fundamental rule you should follow when you crave a good steak: Discard the cheapest as well as the most expensive options from your list of choices. It is paramount that you don't yield to that stingy person inside (you know it's always there somewhere) for it will lead you to extremely poor quality.
So, let's settle for what is optimal once again and get to the Union Market district to find St. Anselm at 1250-1274 5th Street NE.
Your best course of action here would be ordering a Butcher's Steak for $28. Then you can sit back and enjoy your time to the fullest. You will soon discover that it is so tender and full of flavors with just the right amount of marbling.
It is the sort of steak that you cannot possibly find for cheaper anywhere else in D.C. And if you, however, had rather gone to a pretentious restaurant, the same dish would have cost you three times as much. A great cost-saver and still mouth-wateringly delicious! That's what you need.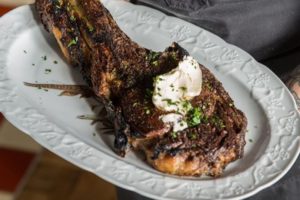 Mackie's
The same approach should also land you at Mackie's Bar and Grill in Alexandria. There, you will enjoy as unforgettable a steak, easily comparable to those you could only find in high-end restaurants.
Order an 8 oz. (over 200 grams) Bistro Steak for $21 alone or, on the days you have a bigger appetite, a 12 oz. (340 grams) Hanger Steak for $26. With them, no living soul can leave this place unhappy. Yet for even a higher satisfaction, go for its filet mignon for $34. With whichever you choose, you will also get to add all the sides and sauces you prefer.
Find it at 907 King Street, where it is close to many attractions around. A stroll across the historic Old Town or along the picturesque waterfront by the Potomac River will help you work off some of the calories you will most eagerly gain here.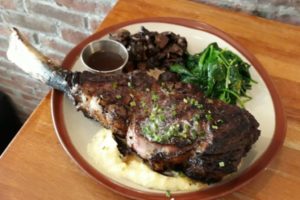 George's    
Let me now introduce a particular steakhouse with a fancier decor and the same price level: George's Chophouse. Drive up to Bethesda, Maryland, and it will be a delight to dine on what famous Chef Ashish Alfred has to offer you steak-wise, as well as other specialties.
Most significantly, you can have a giant rib eye steak (16 oz. or nearly half a kilogram) for just $36. A filet mignon, half the size though, is also possible to get for $32.
What is special about this place's vibe is its perfect amalgamation of an industrial and a rustic design. With a dim light coming from conic equipment dangling from the metal ceiling for patrons enjoying themselves at comfortable booths next to brick walls, the place is super accommodating. It is at 4935 Cordell Avenue.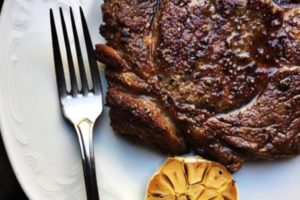 Old Ebbitt Grill
To crown this list is not easy. The restaurant to do that should be both a great and affordable place to eat a good steak at but should also feature something better than the others.
In just walking distance from the White House and the rest of The National Mall, Old Ebbitt Grill stands proud as the oldest saloon in the District. The fact that it survived the challenging test of time is a testament for the quality of food and service here.
It is certainly not one of those restaurants that do well simply as a "tourist trap" thanks to their location near major attractions. After over 150 years of history, it is today beautifully inherent to the nation's capital as an authentic American eatery.
As guests enter the historic building on a marble staircase and see its Victorian interior, they know right away that they have come to the right place for an exquisite dining experience. And steak aficionados of all sorts take advantage of its unique vibe with a flavorful hanger steak for just $25.
Why people pay three or even four times as much elsewhere for nothing more than what is generously offered here is beyond me. So, better take this advice and don't waste your money like you cannot use it on other things.