Are you done staring at the walls of your dorm room and sick of trying to work uncomfortably on your bed? Finding a suitable place to study outside of your often overcrowded university library can be a tempting prospect. After all, who doesn't like a change of scenery?
In this guide, we cover the best places to study in DC, so college and high school students can find their perfect fit to ace their next exam.
Meridian Hill Park
Studying outdoors can do wonders for your motivation and inspiration. Meridian Hill Park is a hidden gem in the DC area. Part of Rock Creek Park, this location is home to a beautiful mansion and meticulously landscaped gardens.
You'll find plenty of places to sit including benches and tables near the exhibit and information center. When you need a screen break, you can walk out and take in DC's longest cascading fountain and reflection pool. Maybe it will help you do some reflecting!
📌 Location: 16th St NW &, W St NW, Washington, DC 20009
💰 Price: Free
🕐 Opening times: Daylight saving time 9 am – 9 pm, standard time 9 am – 12 am
Library of Congress
Nothing makes you think of studying more than our nation's library. The Library of Congress is the perfect study location, especially for law students. Not to mention, there are hundreds of books, periodicals, and other publications for students to conduct in-depth research. 
The LOC Research Centers are the best haven for students. You'll find gorgeous semi-circle tables with plenty of light and space. The reading room is a great place to unplug for a bit and soak up your research the old-fashioned way by reading books and articles.
📌 Location: 101 Independence Ave SE, Washington, DC 20540
💰 Price: Free
🕐 Opening times: 8:30 am – 4:30 pm, closed on Sunday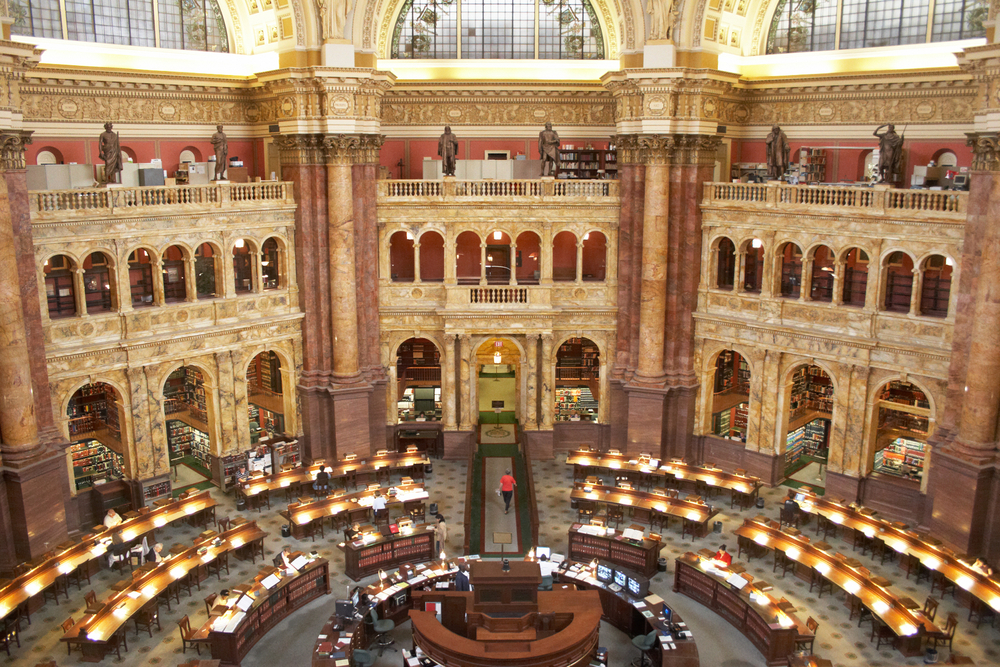 Outbox
If you're looking for a truly unique study space, you should check out Outbox in Silver Springs. This enclosed yet outdoor setting is perfect for students on the go. It features a roof to protect you from the sun but completely open sidewalls that allow the breeze and outdoor ambiance to flow directly into the small space.
One thing to note is there are only 20 seats available. You can visit this study space every day from 10 am to 7 pm, so plan accordingly to avoid the crowd.
📌 Location: 923 Ellsworth Dr. Silver Spring, MD 20910
💰 Price: Free
🕐 Opening times: 10 am – 7 pm, closed on Saturdays and Sundays
Politics and Prose
Beneath the Politics and Prose bookstore, you'll find The Den, which is a fantastic study location. You can stroll through this indie bookstore, then hunker downstairs to study for hours. There are plenty of comfortable chairs and mid-sized tables. 
They have great java and even a wine bar for late-night studying sessions. Their food menu isn't as extensive as other places, but there are a few small plates you can munch on. This study spot is ideal for book lovers to find their nook. 
📌 Location: 5015 Connecticut Ave NW, Washington, DC 20008
💰 Price: Cup of coffee for just $3
🕐 Opening times: 9 am – 8 pm
Busboys and Poets
You might love a strong cup of joe in the morning, but anytime after midday, you might be ready for something different; perhaps a cocktail to get the creative juices flowing. That's why we've included Busboys and Poets on our list.
One of the more inspirational and artistic places to study in DC, this place has it all. There's a bookstore, extensive food and drink menu, and plenty of places to sit throughout. They also have an amazing happy hour Monday through Friday 4 – 7 pm. You can get $2 draft beers and cheap specialty cocktails. You might even be able to see live poetry slam in the evening.
📌 Location: 2021 14th St NW, Washington, DC 20009
💰 Price: $2 drafts between 4 pm – 7 pm on weekdays, mains from $12
🕐 Opening times: 9 am – 10 pm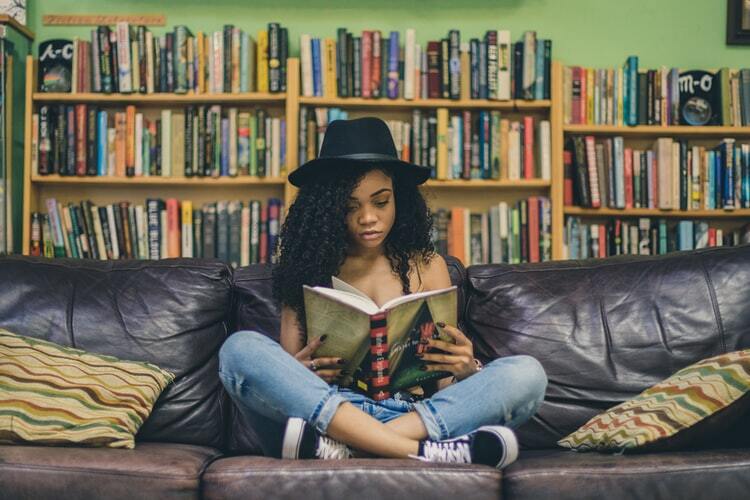 Union Market DC
Who doesn't love a bite to eat after studying for hours? At Union Market DC, you can have just that. This food court-style space is perfect for a hungry student. There are plenty of tables and chairs and every type of cuisine you can imagine right at your fingertips. 
Our favorite part about this place is the people-watching. While we know we are supposed to be studying, everyone needs a quick break from time to time. The WiFi is strong and free, so be prepared to have a very productive day.
📌 Location: 1309 5th St NE, Washington, DC 20002
💰 Price:v$10 – $20 for a drink and snack combo
🕐 Opening times: 8 am –  9 pm
WorkFlow at Flow Yoga
As demanding as studying can be, you might want to channel your inner yogi before a long study session. At WorkFlow at Flow Yoga, you can do just that. This yoga studio turns its rooms into a pleasant studying haven. You'll find low tables and trays where you can put your laptop and comfy cushions to sit on.
We love the vibe in this space. It is relaxing and inspiring to be surrounded by like-minded people. 
📌 Location: 1508 14th St NW, Washington, DC 20005
💰 Price: $25 for two weeks (includes tea and treats)
🕐 Opening times: 9:30 am – 5 pm, closed on Saturdays and Sundays
DC Public Library
We would be remiss if we didn't include all of the DC public libraries on this list. Libraries are the perfect study location. Usually, the public library is quieter and less crowded than a university library.
You'll find plenty of desks and chairs in every library in DC. They also provide fast and free WiFi. On top of that, you can check out thousands of books. Who doesn't love to study surrounded by books?
📌 Location: Several locations throughout DC
💰 Price: Free
🕐 Opening times: 10 am – 6 pm, 12 – 8 pm on Thursday, closed on Sundays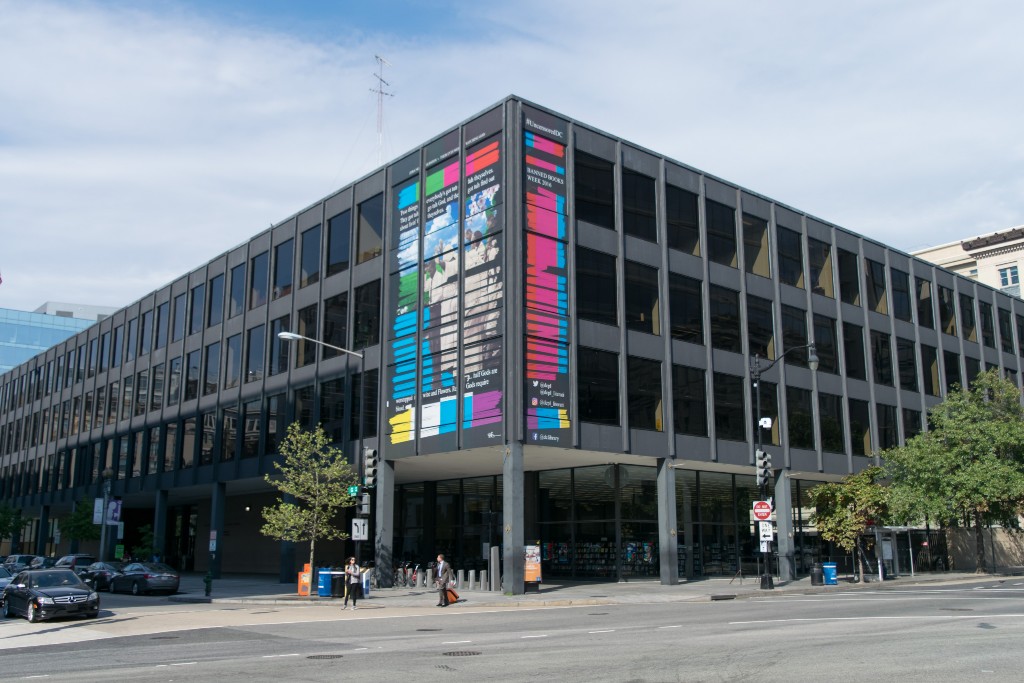 Tryst Coffeehouse
If you're looking for one of the hippest bars/coffee shops in town, then you should check out Tryst Coffeehouse. Not only do they serve up foamy craft beer at night, but they also have some of the best coffee in the city. You will find an eclectic mix of comfortable furniture and tables where you can study all day. 
Located in Adams Morgan and LGBTQIA+ friendly, this place can get rather busy during the day. We recommend going early to get a good seat. They also have a rather extensive menu of sweets and treats to help you power through a long study session.
📌 Location: 2459 18th St NW, Washington, DC 20009
💰 Price: $10 for a coffee and a croissant
🕐 Opening times: 7 am – 9 pm
The Potter's House
Another Adams Morgan central coffee shop is The Potter's House. This place has been around since 1960, and it's still going strong. As a local study haven, they offer plenty of tables, chairs, and lounge seats to please any scholar. The building is also home to a bookstore, which makes students feel right at home. 
They offer artisanal coffee beverages and free WiFi. We thought the atmosphere here was perfect for daytime studying sessions in Adams Morgan.
📌 Location: 1658 Columbia Rd NW, Washington, DC 20009
💰 Price: $15 for a latte and sandwich
🕐 Opening times: 8:30 am – 2:30 pm
Georgetown Waterfront Park
Labyrinths, fountains, and sprawling pollinator gardens — if you're looking for some peace of mind, you might find it in the Georgetown Waterfront Park, stretching along the banks of the Potomac River from 31st.
It's the perfect place for those looking to focus on their essay or create a PPT. When you need a break, make use of the large accessible pathways to take a walk, bike, or skate.
📌 Location: 3100 K St NW, Washington, DC 20007
💰 Price: Entry is free, on-street parking is $2 per hour (but free on on Sundays and holidays)
🕐 Opening times: Open 24 hours
View this post on Instagram
---
Let's face it, after being at school all day; it's nice to study in a different location. It can spark creative thoughts and help you stay focused. Now that you know some of the best places to study in DC, it's time to get out there and ace your next semester! 🎓