According to a study by the Pew Research Center, there is a clearly inverse relationship between a country's income per capita and the proportion of its citizens who pray every day. So, the wealthier a country is, the less likely its citizens are to turn to a power they consider divine on a daily basis. And that rule holds for all of the 102 countries surveyed in 2014, except for just one: The United States of America.
Extremely exceptionally, therefore, it turned out that in the U.S., people are both very rich and spiritual. A whopping 55 percent of the American participants to the Pew survey said that they prayed each day, as opposed to not even 10 percent in Germany, Switzerland or the U.K.
Yet, the overwhelmingly Christian nation of the U.S. also experiences a decline of Christianity as more and more young people have chosen not to be affiliated with any church anymore. And, in the meantime, non-Christian faiths have gained higher popularity among Americans over the years, as well, another Pew study has shown.
Originating in Asia, Buddhism is one of those religions rising across the U.S. and there is now an estimated 1.2 million American Buddhists. More strikingly, in the D.C., Maryland and Virginia (DMV) area, the density of Buddhists is some three times the national average. And also because more people are seeking a deeper meaning in their lives and eager to discover new faiths as part of their pursuit, seeing a Buddhist Temple being frequented by Americans should come as no surprise at all.
For those equally interested in giving the experience of soothing meditation a try, here is where to find some really peaceful Buddhist Temples in the Washington metro area:
Cambodian Buddhist Society
Having established the first Buddhist Temple in all of the U.S. more than four decades ago, the Cambodian Buddhist Society (CBS) today is not only a place of worship but also a community center for Cambodian Americans and immigrants in Silver Spring, Maryland.
It holds religious services on all Buddhist holidays, but there are also chanting sessions twice every day, one in the morning and another in the evening. The celebrations of Khmer New Year, the Temple's signature activity, are always huge feasts of dance and food, as well as prayers, but takes place only in April. Its website has all the other details one may need regarding what, when and how.
It is located on 13800 New Hampshire Avenue. And there is parking available inside the complex that costs only $5, one of the few streams of income availing the institution for maintenance and redistribution to the region's needy.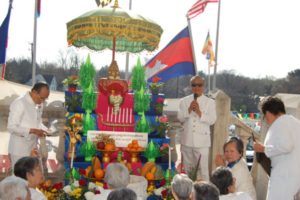 Nichiren Shoshu Myosenji
Also up in Silver Spring, there is another fine place to go to learn about Buddhism and take part in a meditation session. At Nichiren Shoshu Myosenji (NSM) on 310 University Boulevard West, visitors can have the chance to sit back and contemplate life and its meaning in undisturbed peace.
Listening to some relaxing tunes, eyes closed, and holding Buddhist beads in hand is the sort of experience, for which you might want to return here.
The NSM monks hold introductory meetings three times each month. Check out its website for the next one.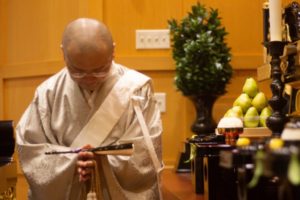 Soka Gakkai International
Like NSM, Soka Gakkai International (SGI), too, lacks the architecture of a typical Buddhist Temple you could see in Asia but possesses everything else that one offers spiritually. Holding introduction sessions four times a week, the SGI accommodates visitors' expectations as good as it could in heartland D.C. near the Embassy Row.
Conveniently located on 3417 Massachusetts Avenue, the Temple also organizes meetings at members' homes in and around the neighborhood, creating a stronger connection and stimulating a solid community feel among them.
A rich database of online resources is available on its website, as well.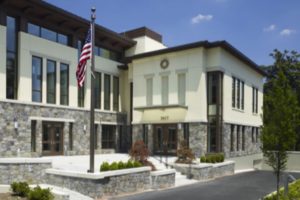 Chua Giac Hoang
If you insist on a rather complete Buddhism experience despite being thousands of miles away from Asia, however, the spot that would suit you best in the DMV area would be Chua Giac Hoang (CGH) on 5401 16th Street.
Following the Vietnamese tradition, CGH appeals to both the eye and the heart. Its style of architectural design, unlike modern-looking NSM and SGI on our list, adds so much to the feeling here and would help visitors concentrate better and deeper.
Most sessions are open to public and the Temple organizes many altruistic events, as well as celebrations to draw in more visitors.