The District is the priciest place in the country for hiring a nanny or sending kids to day care, according to a recent survey released by Care.com.
It costs $855 a week to hire a nanny in DC, which is 23 percent above the national average, and the cost of day care is $419 a week — 85 percent above the national average, the survey revealed.
The top 10 most expensive US states for day care are as follows: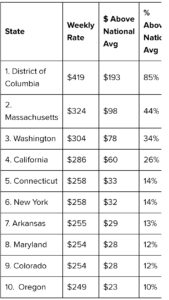 Among the key findings of this year's Care.com 2022 Cost of Care survey is that families have to pay higher costs for child care in 2022 compared to pre-pandemic 2019. 
Around 51 percent of parents stated in the survey that child care spendings amounted to more than 20 percent of their household income, while 72 percent said they spend at least 10 percent. In 2019, 70 percent of parents spent 10 percent or more.
The figures are worrying as child care is only considered affordable when it costs families no more than 7 percent of their household income, according to the US Department of Health and Human Services.
Another finding is that 43 percent of parents have found it much harder to access quality child care over the past year.
Lastly, parents continue to struggle to pay for child care, with 59 percent being more concerned about child care costs than in years prior, 31 percent taking on a second job, 26 percent reducing hours at work, 25 percent changing jobs, and 21 percent leaving the workforce entirely.
"When it comes to child care, there are three critical criteria – cost, quality and availability – and based on our research findings, we've not only failed to make progress as a country, we've actually gone backwards," said Natalie Mayslich, President, Consumer, Care.com in a release. 
"Costs are growing while availability is shrinking and that's having a profound impact on the workforce and consumer spending. We've all seen what happens when parents can't work; making child care more affordable and accessible has to be a priority for all," she continued.
Parents who took part in the survey believe prices are skyrocketing because:
Child care centers increased costs (46 percent)

Inflation (41 percent)

Child care centers taking fewer children (36 percent)