The Metropolitan Police Department (MPD) is looking for a white sedan in connection with the shooting of a seven-year-old girl that took place Saturday in Northeast DC.
The girl, identified as Reagan Grimes, was riding a scooter in the 3500 block of Jay Street at around 7 pm when she was shot in the chest and critically injured. She was near her family members in a courtyard.
Her family told the media that she didn't realize she had been shot at first and started running to her mother following a spray of gunfire. She was taken to a hospital with life-threatening injuries by DC Fire and EMS crews, according to MPD.
Grimes was moved out of the hospital's intensive care unit on Tuesday, while no arrests have been made.
DC police believe the shooting of the little girl was "random," but they are asking for the public's assistance to locate the vehicle of interest that was captured by a surveillance camera in the neighborhood.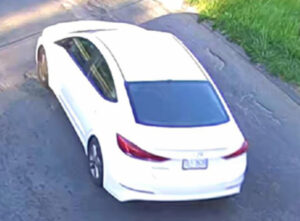 Anyone who can identify this vehicle, or has knowledge of the incident should call police at (202)-727-9099 or submit their tip anonymously by texting to 50411.
MPD currently offers a reward of up to $10,000 to anyone who provides information that help arrest the perpetrators of a violent crime committed in the District.