Fourth of July is a day like no other in the history of the United States of America. So is its place in the life of millions of Americans.
When the Founding Fathers declared the nation's independence, they somehow foresaw that it would always be an incomparable time of celebration for Americans. John Adams, for instance, one of the only two signatories of the historic declaration who would later serve as U.S. presidents, had heralded its significance to his wife Abigail in a letter in 1776.
"I am apt to believe that it will be celebrated, by succeeding Generations, as the great anniversary Festival… It ought to be solemnized with Pomp and Parade, with Shews, Games, Sports, Guns, Bells, Bonfires and Illuminations from one End of this Continent to the other from this Time forward forever more [sic]," he wrote more than two centuries ago.
And as if in a religious devotion to vindicate Adams' foretelling over all this time, Americans from East to West and North to South have never stopped honoring the nation's struggle for independence in mass celebrations every Fourth of July.
Being the nation's capital, the District of Columbia has always been home to the loudest and the most colorful of those celebrations. Nowhere in the country have there been as many people outdoors to cheer the same independence tunes as in the District.
It is, therefore, a great time to be in the capital city to experience the enthusiasm, vigor and joy on the streets here this time of the year.
Here is how to make the most of your participation in the celebratory mood that will prevail in town soon:
Don't Miss the Parade
The signature event of Fourth of July in the District is undoubtedly the National Independence Day Parade. Before an audience as large as hundreds of thousands of people, the annual march runs from the 7th to the 17th Street along the Constitution Avenue.
As the most patriotic, symbolic event in the U.S., it features the proud Fife and Drum Corps in their traditional colonial uniforms, as well as other bands from across the country, special and military units and giant balloons among others. Countless dignitaries and celebrities from around the world take part to pay tribute to those who have realized an America independent of oppression and exploitation today.
So, make sure to take your place along its route before 11:45 a.m. when the parade begins just before noon. And choose an outfit befitting the weather on that day since the event goes on rain or shine.
Watch parades from previous years here for specifics on what to expect this year and more.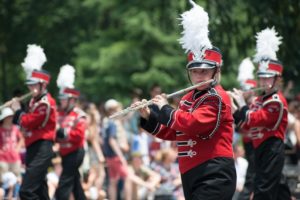 Be Awed by Cannons
It is a bit out of town but a Fourth of July without seeing George Washington's tremendous Mount Vernon estate and all-day celebrations would be profoundly incomplete. Better catch a tour bus or get behind the wheel yourself to travel to 3200 Mount Vernon Memorial Highway on that significant day.
Or make it even more pleasant by renting a bike (or ride your own) to come here along the 18-mile, fully paved Mount Vernon Trail, an incredibly beautiful path following the Potomac River's Virginia shoreline south from downtown D.C.
Admittedly, there are different tastes. But for probably the majority of willing visitors, the best choice would still be taking a three-hour round trip aboard a boat to see the festivities near the historic landmark. Check out this page for where and when to board a boat to Mount Vernon.
The daylong celebrations include fireworks and illuminations over the Potomac River, live animations of historic events such as George Washington's inspection of the troops in their traditional cloaks, repetitive cannon fire from their ranks and reading of the Declaration of Independence. So, believe me, for those of you longing a sense of belonging and community, there is hardly any other event that could supply as much.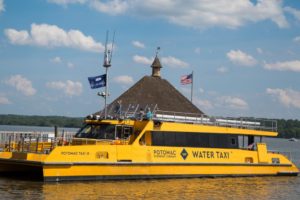 Get on a Rooftop for Fireworks
If there is one thing, though, that the majority of participants constantly enjoy the most at Fourth of July celebrations year after year is the fireworks. Those powerful, colorful and massive illuminations across the dark sky over the capital city are without any doubt reinvigorating. It is indeed a fully satisfying feeling to stand shoulder to shoulder with complete strangers, raise fists and cups to the same ideals and sing songs together.
All this could happen to you on a street, on the National Mall, or inside a park somewhere else downtown, but for those demanding a more privileged view of the fireworks, it would be best to join a rooftop party.
The likeminded would better be quick to make arrangements to secure their place at W Hotel's POV Rooftop Lounge and Terrace, The Watergate Hotel's Top of the Gate or The Embassy Row Hotel in Dupont Circle. There are many other bars and restaurants with spacious rooftops that would do the job for a lower cost. See a fine selection of more than 20 of those spots at this link by D.C.'s official destination marketing organization.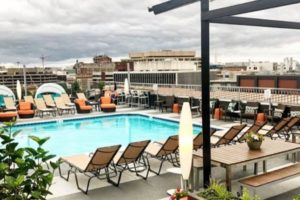 Dig Deeper in History
Say you are not in town only for the festivities, pomp and parade but pursuing a more informative visit. Then, you couldn't be happier than at the National Museum of American History (NMAH).
As is the case with all attractions under the supervision of the generous Smithsonian Institution, the world's largest museum, education and research complex, the admission is completely free of charge to this museum, too. And it would be unjust to describe it as somewhere less than an amazing center to explore the richness and complexity of American history.
With over 1.8 million objects and over three-mile-long shelves of archival collections, NMAH is the exact place to be to dig deeper in history and better understand the past behind us to make sense of the present we live and project that wisdom onwards to shape a brighter future.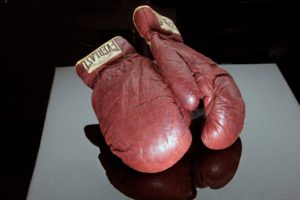 Savor Your Food
In order not to leave out any of the items on our bucket list, one would need plenty of energy. That is because Fourth of July lasts only 24 hours as any other day, but is rather full of things to do like no other. It certainly demands an exceptional performance by all enthusiasts.
Luckily, those of you to visit the District for an unforgettable Fourth of July experience will also be cared for by a true culinary capital. Here, you will find the best of world cuisine skillfully cooked by local, naturalized and foreign chefs.
As The D.C. Post, we have also meticulously covered at length where to go in town for state-of-the-art brunch pleasure, the most delicious African food, the most romantic Italian & French delicacies, the most hybrid Central Asian specialties and the healthiest vegan options, as well as the city's most lively neighborhoods for nightlife. So, take your time to go through those articles, as well, to make sure you don't miss out on the city's incredibly rich nutritional façade.