If you have already checked out our Ultimate Guide for Memorial Day Weekend in D.C. piece and you are seeking a more chill alternative to spend the upcoming national holiday in the capital, you might want to take a look at this compilation of events we have picked out for you.
1. Memorial Day Party at The Graham Rooftop
First off, you should be aware that there are plenty of roof parties this weekend, which surely would be a great way to say hello to summer. Some of them are even free! The Graham Georgetown Rooftop Bar is hosting one of those. The celebration is on Sunday between 12:00 p.m. and 2:00 a.m. and DJ Slide 9 will be performing from 2:00 p.m.-10:00 p.m., while food specials ranging from BBQ Chicken Sliders to Smoked Brisket Tacos and BBQ Platter will be available.
"Memorial Day weekend is the official kick off to Summer and we may be biased, but if you're not celebrating on a rooftop, you're doing it wrong. We'll be partying all day so whether you're party hopping or staking out your spot early and settling in, we're ready for you," the event brief notes.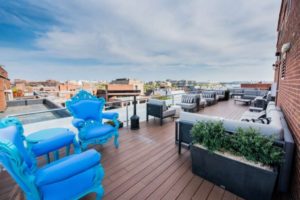 Located at 1075 Thomas Jefferson Street Northwest Washington, D.C. 20007, the place is listed among "The Best Rooftop Bars in D.C." by Thrillist, which says "The refined rooftop enthusiast will appreciate this swanky spot for its bottle service, tobacco selection, and raw bar. Views of historic Georgetown aren't bad, either."
The place also received Certificate of Excellence from TripAdvisor in 2016. 
Tickets are not required and do not guarantee entry or seating, so arriving early is recommended. You also need to show a U.S. ID or passport to prove you are over 21.
2.  Rock & Roll Hotel Rooftop Party w/ DJ Danny House
Rock & Roll Hotel (at 1353 H St. NE Washington, D.C. 20002) is promising a free rooftop party featuring DJ Danny House on Saturday. The D.C.-based musician/producer of Ethiopian origin is known for his performances of house and progressive house music in various European countries.
The "very limited capacity" event starts at 3:00 p.m. and lasts until 10:00 p.m., with DJ performances through 8:00 p.m. It provides guaranteed entry for those who RSVP, which is free of charge. Note that attendees are required to be at least 21.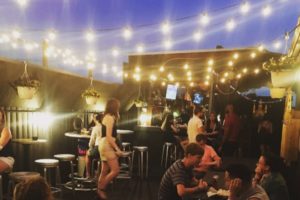 3. Memorial Day Rooftop Party at Beacon Rooftop Lounge
Beacon Rooftop Lounge is another location for a Memorial Day weekend rooftop party. If you are interested in a "huge line-up of DJs," then make sure you are present at 1615 Rhode Island Ave. Northwest Washington, D.C. 20036 from 5:00 p.m. to 10:00 p.m. on Saturday and Sunday for a two-day entertainment.
Limited "Super Early Free" tickets are offered, as supply lasts. "Early Bird" tickets are $5 and the price will be $10 on the event's day. For bottle/table service, you can email info@merevents.com or text 202-368-1878.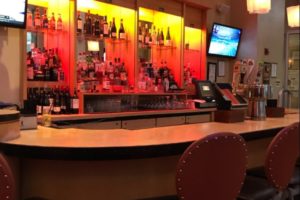 4. Annual Pink & White Memorial Day Rooftop Party
JBC Events is organizing its ninth annual Memorial Day Eve party, The Pink and White Party, on Sunday from 7:00 p.m. through Monday at 2:00 a.m. at the W Hotel's POV Rooftop Lounge & Terrace (515 15th Street Northwest Washington, D.C. 20229). DJ Heather Femia & Nikita Zamkov will be performing at the Terrace, while DJ Pouria will be at the POV Lounge.
"This is your exclusive opportunity to check out the renovation at the W Hotel, including the legendary POV rooftop bar with unparalleled views of the city. The new look mixes modern design with playful, only-at-W elements that pay homage to the city's past and present," according to the event brief.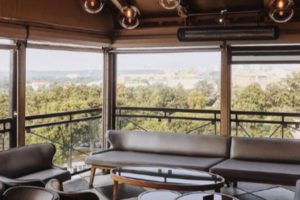 5. The 90's Hip Hop | R&B Boat Party – Memorial Weekend Edition
If you prefer a boat party over a rooftop entertainment on this special weekend, RegMoPromo is bringing you a 90'S Hip Hop & R&B party on a boat.
"Get ready for a DOPE party on the river just in time for sunset. Then keep it going with the after party!" the organizers say on RegMoPromo's website, adding "PREPARE TO DANCE… A LOT!!! DJ P-DRAMA and DJ B-SHARP will have you partying nonstop to your favorite classic Hip Hop and R&B favorites from the 90's throughout the cruise."
Sunday's event will be on a two-level Boomerang yacht, which will set sail from the Georgetown Waterfront across the Potomac and back Sunday, May 26 from 6:30 p.m. – 9:00 p.m. during the sunset. You can check-in on the deck in front of Nick's Riverside Grill, on the Georgetown Waterfront at 5:30 p.m. (Boomerang Tours, Inc. 3100 K Street Northwest Washington, D.C. 20007) The boat will leave promptly at 6:30 p.m.
There are two big floors including a first floor lounge area with a bar and an open second level roof deck party space.
Guests are asked not to bring food or drinks from outside, since there will be food sold on the boat ride. Smoking weed and using illegal drugs are strictly prohibited.
Tickets can be purchased for $35 over Eventbrite.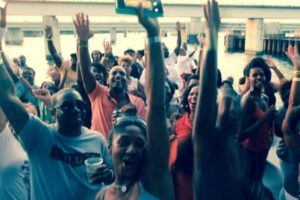 6. Day Time Activities, Brunches and Other Events on Memorial Day Weekend
Brunch lovers may consider Memorial Day Weekend Brunch + Day Party at The Park (at 14th 920 14th Street Northwest Washington, D.C. 20005) on Sunday for a price of $38 – $48.
Be mindful of the dress code and don't forget to submit a large party reservation request at Park14Reservations.com for parties over eight, before purchasing your the brunch tickets.
Also on Sunday, Memorial Day Brunch & Day Party Special Event at Ozio offers you "unlimited buffet and bottomless mimosa" for brunch from 12:00 p.m. – 5:00 p.m. (at 1813 M Street Northwest Washington, D.C. 2003) The brunch is followed by a day party between 5:00 p.m. and 9:30 p.m.
Memorial Day Cook-Out on Sunday (at The Brig D.C. 1007 8th Street Southeast Washington, DC 20003) is another good choice for an outdoor activity during the day. Be there between 2:00 p.m. and 5:00 p.m. to be served grilled chicken and cold beer for only $25 – $30.
How about some comedy on the Memorial Day weekend? If it sounds good, Comedy Club D.C. is where you should go on May 25. Virginia-based stand up comedian Clay Miles will help you have a great time from 8:00 p.m. – 11:00 p.m. The place is at 2327 18th Street Northwest Washington, D.C. 20009. Tickets are priced at $20.