The amazing Peruvian cuisine will be celebrated in the District one more time this year, thanks to the annual "Taste of Peru Washington, D.C. 2019" on June 2.
So if you would like to discover Peru's rich culinary heritage, make sure you are at the University of the District of Columbia, 4200 Connecticut Avenue, Northwest D.C. 20008 between 10:00 a.m. and 6:00 p.m. this Sunday.
The gastronomical event was organized by the Taste of Peru – Washington, D.C. Inc. in cooperation with the Embassy of Peru, D.C. Mayor's Office on Latino Affairs and the region's Spanish-language newspaper Washington Hispanic.
Described in the event brief as "the biggest culinary festival showcasing the gastronomical marvels of Peru," it will feature "renown Peruvian chefs and local Peruvian restaurants, entertainment, vendors and culturally related topics."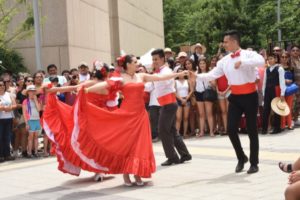 Among the attending restaurants are Manos Limeñas, Pisco Y Nazca Restaurant, Inca Social Restaurant, Restaurante El Pregón (Lima-Peru), Barra Brava, Bravo Chicken Restaurant, Pio Pio Restaurant and many more. You can check out the full list here:
Ticket prices range from $15 to $40 and it was specifically noted that the event will take place rain or shine. Your children under the age of 10 can enter free of charge.
Keep in mind that the nonrefundable tickets only give you access for the live entertainment and live cooking demonstrations, while you will have to separately pay the participating vendors for food.
Another important note is regarding prohibited items at the event:
"Attendees to the Taste of Peru Washington, D.C. are strictly prohibited from bringing food or beverages into the premises, drugs, weapons of any kind."
For car directions and other information, you can email info@tasteofperudc.com or call 202-340-5917.