The District of Columbia regained its #1 spot as the top ranked park system in the country on the annual ParkScore® index released by The Trust for Public Land.
In DC, 98 percent of residents live within a 10-minute walk of a park, which is well above the national average of 75 percent.
Residents who identify as Black, Hispanic and Latinx, Indigenous and Native American, or Asian Americans and Pacific Islander are equally likely to live within a 10-minute walk of a park as white people, according to The Trust for Public Land. The city's park space per capita is distributed almost equally, as well.
"We already loved our parks, but over this past year, as Washingtonians have made it a priority to spend more time outside, we have developed an even greater appreciation for our ability to play and gather in beautiful outdoor spaces across DC," said Mayor Muriel Bowser about the news. "We're happy to be back in the number one spot, and we'll continue to make convenient access to world-class parks and playgrounds a priority for residents in all eight wards of DC."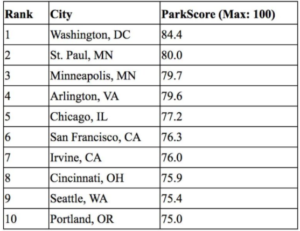 DC ranked second on the annual ParkScore® index in 2020, falling behind Minneapolis, MN, which finished third this year. Saint Paul, MN, holds the number two spot, and Arlington, VA, came fourth.
The last time DC topped The Trust for Public Land's ParkScore® index was in 2019.
The District's strong scores in "park equity," a factor included in the index's rating system for the first time in 2021, played a key role in the city's victory this year.
"In a majority of ParkScore cities, white neighborhoods and high-income neighborhoods have a disproportionately higher share of park space," says Linda Hwang, The Trust for Public Land's Director of Innovation and Strategy. "That's not right and it's not fair. The Trust for Public Land believes there should be a quality park within a 10-minute walk of home of every person in America, and we are committed to centering equity as we advocate for parks and open space in cities throughout the United States."