A town between two rivers, Washington, D.C. has at least as much to offer on the waters as besides them. And plenty of boat charter options around make sure people here make the best of it.
Forget about how much fun you had at the best party on land. Your dream celebration may yet be on the deck of a fine floating vehicle. Choose from the following list of companies to join or organize it and let yourself and your fellow partygoers enjoy life like you never have before.
Boomerang
Since 2012, Boomerang Boat Tours has been skillfully offering cruises on the Potomac River. No matter if it is for a daytime party or a nighttime event, the company has two vessels, first with a seating capacity of 125 passengers and the other 60 of them, with a full bar and a DJ booth each, to put to your service.
And for rather unusual tastes, it also has a pirate ship with 12 cannons. Prices vary between $20 and $35 per person depending on the length and time of the activity you choose. Bookings are available online.
Renting a private yacht for your own guests, likewise, is possible, but understandably costs much higher. Call 202-417-2055 to request a quote for yours.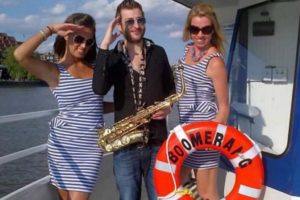 National Elite
As an alternative to Boomerang for large gatherings, you may find it equally delightful to rent National Elite, a beautiful yacht featuring three decks and can fit 100 guests seating. You can charter it from both southwest D.C. and National Harbor, Maryland.
With National Elite, you will have the option to enhance your event with live entertainment, custom decor and various food and beverages. Plan your fancy wedding, anniversary, birthday celebration or the perfect get-together with it. There is hardly any chance you or any of your guests would regret stepping onboard.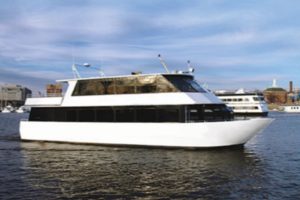 Embark DC
A rather more intimate experience along the capital city's shoreline, however, would be better with Embark D.C.
In much smaller boats for up to six passengers alone, this company never disappoints, and gives your group exactly what is worth of their money: a royal experience.
If you are planning on proposing to your partner but don't exactly know how or you want to throw a highly exclusive birthday party for him/her but are kind of short on ideas, know that this is what will meet your highest expectations day and night. Captain Denny, also the owner of the company, receives top ratings online for making sure it does.
Another good thing about Embark D.C. is that you can board your boat not only at multiple locations in town, but also in Virginia and Maryland. So, it is a pretty wide coverage for folks residing elsewhere but might enjoy a D.C. getaway.
Rates, however, start at $400 per hour and customers need to book for at least 1.5 hours. So, expect to pay $600 minimum for whatever crosses your mind or would suit you. It is, nevertheless, okay to bring your own food and drinks aboard, which actually saves a lot of dollars compared to paying for each on the water.
Bookings are available online, but should be made at least 24 hours ahead of your trip. Last minute requests are welcome, too, but need to be made rather over the phone. Call 888-634-3335 to find out if the company will be able to accommodate your hurried schedule.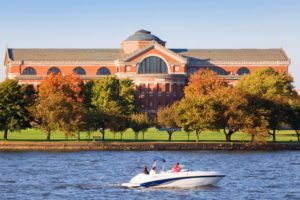 DC Sail  
Another "We don't care, bring your food & drinks aboard" organization that does a perfect job accommodating its customers' desire for a lower cost on such a service is D.C. Sail.
Being the community sailing program of the non-profit National Maritime Heritage Foundation, it actually has a mission of promoting and sustaining affordable sailing opportunities for all ages in town, but also offers rental options to its members.
With "super membership" for only $425 per annum, all rental fees will go away. And if you would rather be in a longer-term engagement with the foundation, you can take advantage of the same benefits for a lifetime on a single payment of $5,000. With this, you will also receive a complimentary charter for 35 aboard American Spirit, the foundation's flag-carrier yacht, each year.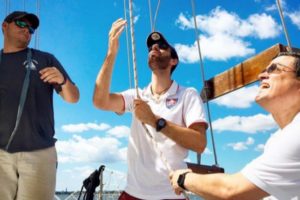 Time4Me
Let's say you would like to remain more flexible with the timing of your event than you could be with a foundation like D.C. Sail, but you are also looking for cheaper options than Embark D.C. Then, Time4Me could just be the thing for you.
For up to six passengers, Captain Tommie Williams' company offers delightful tours along the D.C. shoreline. Born and raised in town, she also makes a perfect tour guide as long as you are willing to take advantage of a live narrative.
Her boat is a beautiful 32 feet Sea Ray Sport Cruiser with all the comforts of home. It has two refrigerators to store food and beverages you bring onboard, two-burner cook top, microwave, and a propane grill available for your use. The air-conditioned cabin allows for temporary relief, as well.
Its price per hour is $200 and customers are required to book for at least two hours from Monday to Thursday and for three hours from Friday to Sunday. It has a kind 100 percent refund option, if customers choose to cancel their reservation no later than seven days prior to the day they booked.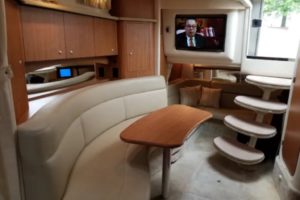 Carefree Boat Club
Boating is great fun and once you experience it, you may want to do it over and over again. The downside is it is expensive. Immensely so!
And if you like to do it often but dread the cost of ownership, you could hardly be better served than with a membership to a fine boating club. Know that Carefree, premier boat club operator in all of North America, is an excellent choice.
The organization allows its members to use various boats as often as they would like with no additional cost. Its online reservation system makes it so easy to pick the day, time, boat and location in both the U.S. and Canada.
It is totally hassle-free and makes you feel so good since you save with membership all costs associated with ownership such as slip fees, insurance, maintenance, repairs, taxes, towing and winterization, beyond the actual purchase of a boat.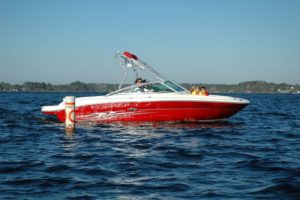 Potomac Paddle Pub
And what if I tell you there is even a better option for those who are less interested in sailing or fancy celebrations but more in a boozy yet active fun time on deck watching the D.C. skyline? There is such an opportunity for you with Potomac Paddle Pub.
It builds on a fantastic discovery, inexpensive, energetic and environment-friendly: Cycleboat. As the only example of its sort in D.C., this company combines beautiful views with physical exercise and cold drinks. It proves so much fun every time customers leave its deck already looking forward to their next time.
You can reserve a seat on their cruises or rent an entire boat for any celebration you have in mind; a birthday party, anniversary or corporate outing. The Cycleboat seats up to 16 passengers, 10 of which can pedal at once, and its tours are 90 minutes long. It also has an engine to help out for when the crew of customers gets tired of pedalling.
Bookings are available online. And the price per person to join a cruise is about $50. Renting a full boat, however, costs $500 from Monday to Thursday and $625 from Friday over the weekend.