The Capital Memorial Church of Seventh Day Adventists in Washington, D.C. will host its annual International Vegetarian Food Fair, which features vegetarian dishes from around the world, on September 15.
The members of the church has been holding the exclusive event every year and offering its guests the opportunity to taste authentic vegetarian specialties from approximately 50 countries, with unlimited samples.
"You can take a small serving of hundreds of items and come back for more!" the event brief says, adding that attendants will get to try various foods from Africa, Asia Pacific, Caribbean, Europe, India, Latin America, and North America. 
"This is the perfect way to introduce children to ethnic foods!" the organizers say.
It is also noted that all of the items served at the fair will be vegetarian, while some will be vegan. Labels on the dishes will be showing which category they belong to.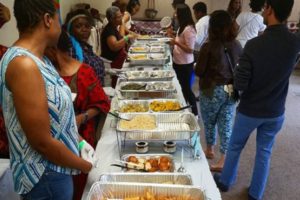 The church, located at 3150 Chesapeake Street NW Washington, D.C. 20008, is scheduled to open its doors at 1:00 p.m. and the event will last until 4:00 p.m. 
The entry fee for the fair is $15 per person and $10 for those aged 60+, all of which you can pay with your credit card. It is free for children who are 10 or younger, as well as law enforcement employees, fire fighters, and soldiers, if they come in their uniforms. 
The church will donate part of the proceeds to a local charity.
"Capital Memorial Church strives to be a fellowship of disciples where worship, spiritual growth, and caring prepare us for sharing the Gospel and, in sharing, we invite men, women, and children of all cultures into this fellowship," the church says on its website.