The spring has finally arrived with signs of rejuvenation sprouting across Washington, D.C. and it is certainly time for kids to be active out, rather than inside our homes, because God knows best but we can take no more of their sight climbing up bookshelves. And when it comes to burning off some pediatric energy, otherwise potentially hazardous, not many things could be better than open playgrounds.
Here is where to find the best of those recreational facilities near the nation's capital:
1. Kennedy Recreation Center
Imagine gadgets – swings, slides, climbing courses and a splash pad – for kids everywhere in a playground and that is Kennedy Recreation Center. Conveniently located on 1401 7th Street, this is the absolute fun place for children of all ages since there are two separate areas for each age group, below and above five. So whether you have a toddler or an older kid, this center has a lot to offer. Availability of clean restrooms is a big plus. The only downside is that because it is so good it can sometimes be packed in late afternoon and younger kids might feel somewhat intimidated then. Better be selective of the hour when you decide to visit.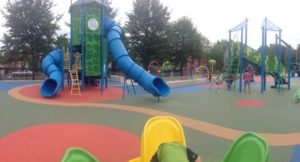 Westminster Playground
A hidden gem on 911 Westminster Street, this playground might first strike you as somewhat tiny but gets hardly over-crowded. Next to a big, colorful mural, kids can really enjoy their time with the swings and the slide attached to a wooden fort. The water spray section could be even more fun on a warmer day but the best thing here is the availability of many donated ride-on toys. Kids simply love them and, because there are many, it is never a task too difficult to get them off when they should since they have their time with each one they like. Just make sure they went to the bathroom before they were brought here because there is none inside.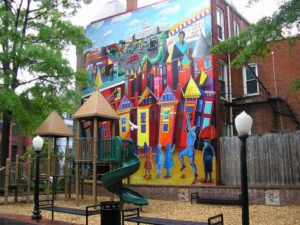 Palisades Recreation Center
Again a small neighborhood playground in D.C. and it has just everything to expect from the sort: A gated & fenced area, toys, jungle gym structures, a spray park and bathrooms. There are also a baseball and soccer field, as well as a tennis court adjacent to the kids section. Shaded areas and benches available make it easy to keep a watchful eye on the little ones while they enjoy themselves. It is on 5200 Sherier Place.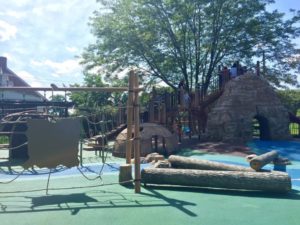 Rocky Run Park
Arlington is much praised by offering Rocky Run Park to children, and whoever is taking care of them; parents, grandparents and nannies alike. With two age group sections available (for 1-4 and 5-12), this place is good for almost any kid. A major ropes course for those willing to climb, because they would be, and a big closed slide attached to a fort on top of it are a big hit. A basketball and soccer court best complements the fun for them. And for younger kids, there are swings, rocking cars on springs and a sandbox for when they don't feel like roaming around. The clean, well-maintained bathrooms are there to simply offer a higher comfort and extend your visit. It is located on 1109 N. Barton Street.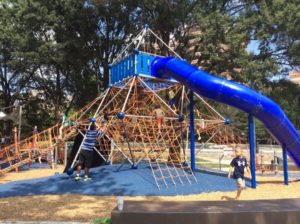 Virginia Highlands Park
On a warm summer day, kids would be at a loss for not trying the spray ground at Virginia Highlands Park that offers even more fun compared to a regular playground of which there is one here, as well. With lots of walking space and shaded areas around, it is a convenient facility for caregivers, too. Soccer and flag-football fields on top of basketball, tennis and squash courts make it only better. Again in Arlington, but on 1600 S. Hayes Street.