Nightlife sometimes remains in the shadows in reviews of Washington, D.C. as a tourist attraction. And it is true, like most capitals around the world, it can be dull during the day. But once the office hours are over, the city actually transforms into nothing less than a heaven for club and bargoers.
As is typical in downtown particularly, seeing men and women in dark suits, rushing with cups and sandwiches in their hands, one might get the impression that people here are leading rather hastened lives and have neither the time nor the energy for other colors and joys within. That, however, would be simply inaccurate.
Economics of Fun 
From an economic point of view, for instance, the District possesses strong demand fundamentals to invite a bustling nightlife scene: younger and richer inhabitants.
According to the Data USA, an online private database of key U.S. figures, the median age and household income in the capital city are 34 and $82,372. They contrast with a less promising figure nationwide, which is 38 and $60,336, respectively. So, in comparison to the average American, those residing in D.C. have both better financial means and a fresher youth to more strongly demand a night out, or two, every now and then.
So, do not allow the thick air of formality, serious clothing and a gray landscape of massive buildings prevailing in the city fool you into thinking that Washington is a black hole swallowing people into depths of boredom. Quite on the contrary, it is a city that remains alive and kicking outside the office hours, as well.
It is indeed a vibrant place with restaurants, cafes, clubs and bars buzzing with customers till late hours. From the historic Georgetown to the 14th and U streets to Shaw and Adams Morgan, there are many such neighborhoods, where people end their days evidently transported with joy.
Linger a bit longer and devote your time to giving our suggestions below a try. You, too, will discover just how lively this city is.
U Street Corridor
Regardless of the time you have been in D.C, the U Street Corridor running from east to west will certainly have the tricks to help you relax and enjoy your night out with whoever's company you prefer; a partner, friends or family. With a music and nightlife scene hardly present elsewhere in the city, it always draws clubbers looking to stay up late. Happy hours are particularly dense at select spaces, where drinks at reduced prices run flowing in rivers unabated.
Just off U St NW, for instance, is a legendary concert venue, the 9:30 Club that was named one of the 10 best live music venues in all of the U.S. by Rolling Stones magazine last year. The most brilliant thing about it is that the venue has a balcony the performers take to, overlooking a huge standing hall. Here, there is no chance you can miss the sight of famous singers and musicians during even the most raucous of all events.
Another major site for couples and other cocktail lovers alike is U Street Music Hall, a DJ-owned underground club known for bringing top electronic dance music talents onto the stage and never letting energy drop all night. It is on 1115 U Street NW.
Other highlights of the area are Nellie's, one of the city's oldest and most popular gay bars, and Dirty Goose Bar that offers all drinks at half price between 5:00 p.m. and 9:00 p.m. all weekdays.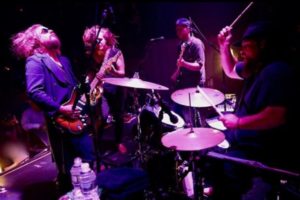 14th Street Corridor
The intersecting 14th Street Corridor running from north to south offers nearly as many nightlife choices for residents and visitors in the District. It has grown over time to become the culinary and entertainment heart of the popular Logan Circle neighborhood. And today, it is undoubtedly a must-visit for even the most discerned diner that happens to be in town, featuring dozens of trendy bars, cafes and restaurants for almost all tastes.
That is why on any night of the week, Washingtonians crowd into major spots along the corridor like the famed French bistro Le Diplomate, as well as the South American bars El Centro and Masa 14. Visitors are equally overwhelmed with Southeast Asian delicacies served at Doi Moi and perfectly Italian Ghibellina offering not less than what could be found at the best bars and diners in Tuscany itself.
And now that the summer is on us, another perfect choice on the corridor would be the Garden District for German beers, as well as American ones. Its patio never ceases to be full of people making the best of their time out. Those who are rather into energizing tunes and dance would however be well advised not to miss the Black Cat, an absolute music venue.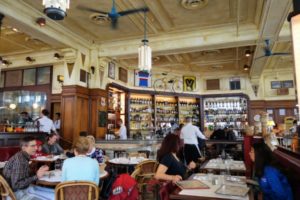 Shaw
A short walk eastwards from where the U Street and 14th Street corridors intersect is the city's Shaw neighborhood, where visitors would find a plethora of amazing diners, bars and clubs.
The Dacha Beer Garden here is a must-visit for anyone looking for unforgettable fun in the nation's capital. Take in your share of German and Belgian suds, as well as American ones, on its big patio. Inspired by traditional Bavarian beer gardens, the dog-friendly place also promises to serve local meads and ciders, draft cocktails and an array of carefully curated wines.
The rooftop at Takoda Beer Garden in the area proves equally mesmerizing with all its craft cocktails to sip in open air. The fact that it is good for more than 100 people allows for great socializing prospects and meeting new people. Removable windows make it a year-round fun.
Food-wise, it should be good to know that no neighborhood in D.C. has seen as many restaurants opening as in Shaw. Foodies are simply raving about places like Convivial, San Lorenzo and Kinship.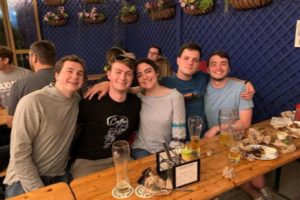 Adams Morgan
Particularly along the 18th Street NW, the neighborhood of Adams Morgan in Northwest Washington, D.C. is home to numerous food and entertainment spots, as well. It is no surprising that it is known by locals as the liveliest of its kind in the entire District.
Exceptionally open 24/7, for instance, The Diner is definitely a must-visit restaurant in all of D.C. With its modern decoration that however has also an old school appeal, the place promises a homey feel for all tastes, cherishing the idea that the fastest way to customers' hearts is through their stomachs. And with not only one but two patios, the 10,000 square feet (nearly a 1,000 square meters) of space available at Pitchers, a gay sports bar, allows for plenty of games to relax at the end of a busy day, any day.
Other major highlights of the neighborhood include Madam's Organ, Grand Central and Black Squirrel, all of which are perfect places to hang out for drinks and music.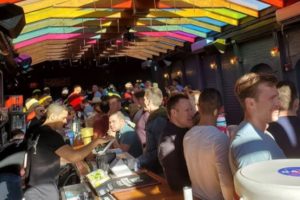 Georgetown
That leaves us with the city's waterfront, where the outdoor fun is perfectly complemented by a cool breeze in the hottest of all summer nights.
When the coastal area is scrutinized, any review should start with Georgetown that existed even before there was any D.C. to speak of back in the 18th century. Today, the historic, cobblestone neighborhood of D.C. has one of the best nightlife scenes in town on top of its distinctly beautiful atmosphere and picturesque architecture.
To accommodate students of the famed Georgetown University and others alike, the area is home to many bustling bars and clubs, particularly along M Street and Wisconsin Avenue. Mr. Smith's, Blues Alley and Rhino Bar are some of the great places to hit for the best nightlife experience while in the neighborhood.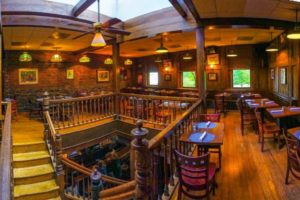 District Wharf
As a rather recent addition to the nightlife landscape in D.C., District Wharf, a mile-long redevelopment stretch along the Potomac River, also has a great waterfront vibe for food and music enthusiasts.
In addition to street performers encouraged to seek their audience here, many pubs and taverns with live music, District Wharf distinctly features The Anthem, an acoustically optimized concert venue for up to 6,000 people. It already has some 30 concerts scheduled from late May to end of August. Also located in the area, Union Stage offers even a more packed calendar of events, too, but in a more intimate setting.
Crowning the feel of District Wharf, the 10,000-acre area of parks and piers along the coastline makes it a perfect spot for any summer night out.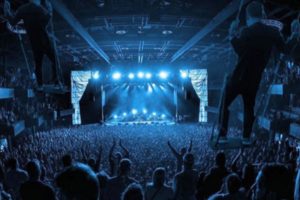 'Stand Up, Don't Stand By' Campaign Launched in DC to Prevent Sexual Assault