Mayor Muriel Bowser and DC Health Director Dr. LaQuandra Nesbitt announced that individuals ages 65 and older will have access to immediate COVID-19 vaccination without scheduling an appointment at walk-up sites.
The sites will be available to seniors in the District starting Monday, April 19, and will offer either the Pfizer-BioNTech vaccine or the Moderna vaccine, both of which require two doses, according to DC Health. Each site is allowed to vaccinate 30 residents per day.
The vaccination sites, days and times are as follows: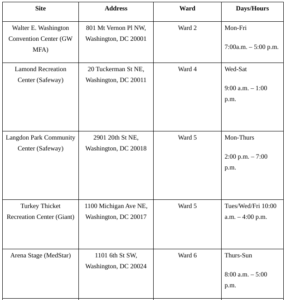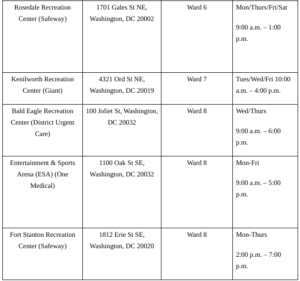 The Bald Eagle Recreation Center site will only serve residents of Wards 7 & 8 who are 18 or older.
On Monday, April 12, DC began its second phase of COVID-19 vaccination plan, with all residents 16 and older becoming eligible to get vaccinated.
DC residents are encouraged to pre-register for a vaccination appointment either using the city's portal vaccinate.dc.gov or by calling 1-855-363-0333.
Around 92,120 people in DC have pre-registered, received an invitation, and made an appointment so far. And approximately 119,791 individuals are awaiting an appointment after pre-registering.
Eligible DC residents may also opt for booking a vaccination appointment through their health care provider. If they are veterans or veteran spouses, they can get vaccinated through the VA Medical Center.
Residents 65 and older, teachers and school staff, child care workers, and health care workers can book appointments through the CVS site.