An Asian shop owner in DC was attacked on Tuesday by a customer and punched in the face after he didn't allow opening items at the store.
The Metropolitan Police Department (MPD) is currently investigating the incident as a possible hate crime.
Chong Hu Lu, owner of Max Trading in the 1300 block of 4th Street, Northeast, told NBC Washington his customer became upset because the store's policy didn't permit him to remove jewelry from their case.
The man then yelled "F*** you Chinese people, I hate you" and punched Lu in the face, according to Lu.
This surveillance video shows the attack. The attacker ran away + hasn't been arrested. DC Police tell me they are "investigating the attack as potentially being motivated by hate/bias." Lu tells me he had to get 14 stitches. Full story ahead at 4/5/6p on News4 @nbcwashington pic.twitter.com/dJf2wdCyjH

— Aimee Cho (@AimeeCho4) May 5, 2021
In a surveillance video captured inside the store, a man in a blue shirt can be viewed walking up to Lu, who is busy with his work, and punching him following a short dialogue, and knocking him over.
The attacker keeps hitting Lu on the floor until two people run for his help and pull the man from behind.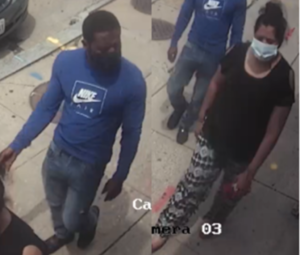 The man ran away following the incident, while Lu was transported to a local hospital for non-life threatening injuries and reportedly received 14 stitches.
DC police released a screenshot from surveillance footage, asking for the public's assistance to locate the suspect.
Anyone who can identify the individuals is asked to call police at (202) 727-9099 or anonymously text their tip to 50411.
The Department currently offers a reward of up to $1,000 to anyone who provides information that leads to the arrest of the perpetrators of a crime committed in the District.
"The Metropolitan Police Department is investigating this offense as potentially being motivated in whole or in part by hate or bias," MPD said in a release, adding that the designation can be changed at any point as more information emerges.