Whether you're new to the city, passing through, or moving to a new apartment, there is a place in Washington, DC for everyone. Since the capital is so diverse, every neighborhood is different. So how do you find your perfect fit?
In this guide, we took a long, hard look at the best Washington, DC neighborhoods. Whether you're a night owl who likes to party or a work-from-cafe professional, we'll help you find the spot for you in DC!
Foggy Bottom: Cultural and Diplomatic Haven Near GWU
If you're looking to rub shoulders with politicos and staffers, then Foggy Bottom is the place for you. But that's not all it is known for. You can also expect to find this area teeming with George Washington University students, great pubs, and casual eateries. This area would be perfect for young professionals looking for an apartment near hopping nightlife.
Foggy Bottom gets its name from the fog that tends to linger there in the early morning. It is home to the US Department of State and the National Symphony Orchestra. One of the best parts of the neighborhood is the John F. Kennedy Center for the Performing Arts. Don't forget to see a free show here which you can catch nightly at 6 PM.
Georgetown: Shopaholics Delight With a Diverse Retail Scene
As soon as you take a walk through Georgetown, you'll fall in love with the Federal-style architecture. On top of that, there are numerous retail shops for folks interested in picking up a new outfit. If you are relocating with your family, Georgetown has excellent schools and premium starter condos.
You will even have a chance to rock your new look at one of the many waterfront restaurants along the Potomac River. We recommend checking out Clyde's of Georgetown for authentic American eats and cocktails for the perfect date night.
View this post on Instagram
DuPont Circle: Trendy Neighborhood With Vibrant LGBTQIA+ Community
DuPont Circle is well-known for its vibrant atmosphere with cafes, bistros, and bars. Our favorite part about this neighborhood is the stretch along 17th Street, which is known for its gay-owned businesses.
You can find your next great read here at one of the many bookstores. Afterward, you can take a stroll over to DuPont Circle fountain to grab a coffee and read. If you are part of the LGBTQIA+ community, you'll feel right at home in this neighborhood. You can even put on your dancing shoes and check out one of the gay-owned clubs in the area. 
If you're looking for a home with some green space, you may not find it here. This area is filled with townhomes that are best for young couples with no children.
Adams Morgan: Bustling Multi-Cultural Nightlife Scene
At the center of Adams Morgan, you'll find the vibrant nightlife strip along 18th Street. Whether you want a beer, a cocktail, or a dance, there's something for everyone in this neighborhood. It is also home to various international restaurants, so if you've ever wanted to try Ethiopian or Vietnamese cuisine, now is your chance.
If you're a single, young professional just starting, then this area is great for you. There are plenty of opportunities to make friends. This area will cater to your wild side at night and your professional side during the day. Although, the price of a small apartment here is higher than in other regions.
Our favorite part about this neighborhood is the buzzing nightlife scene. If you want to rave into the early hours of the morning, you can check out one of the many clubs or bars in Adams Morgan. We recommend stopping in for a late-night cocktail at Grand Central Bar.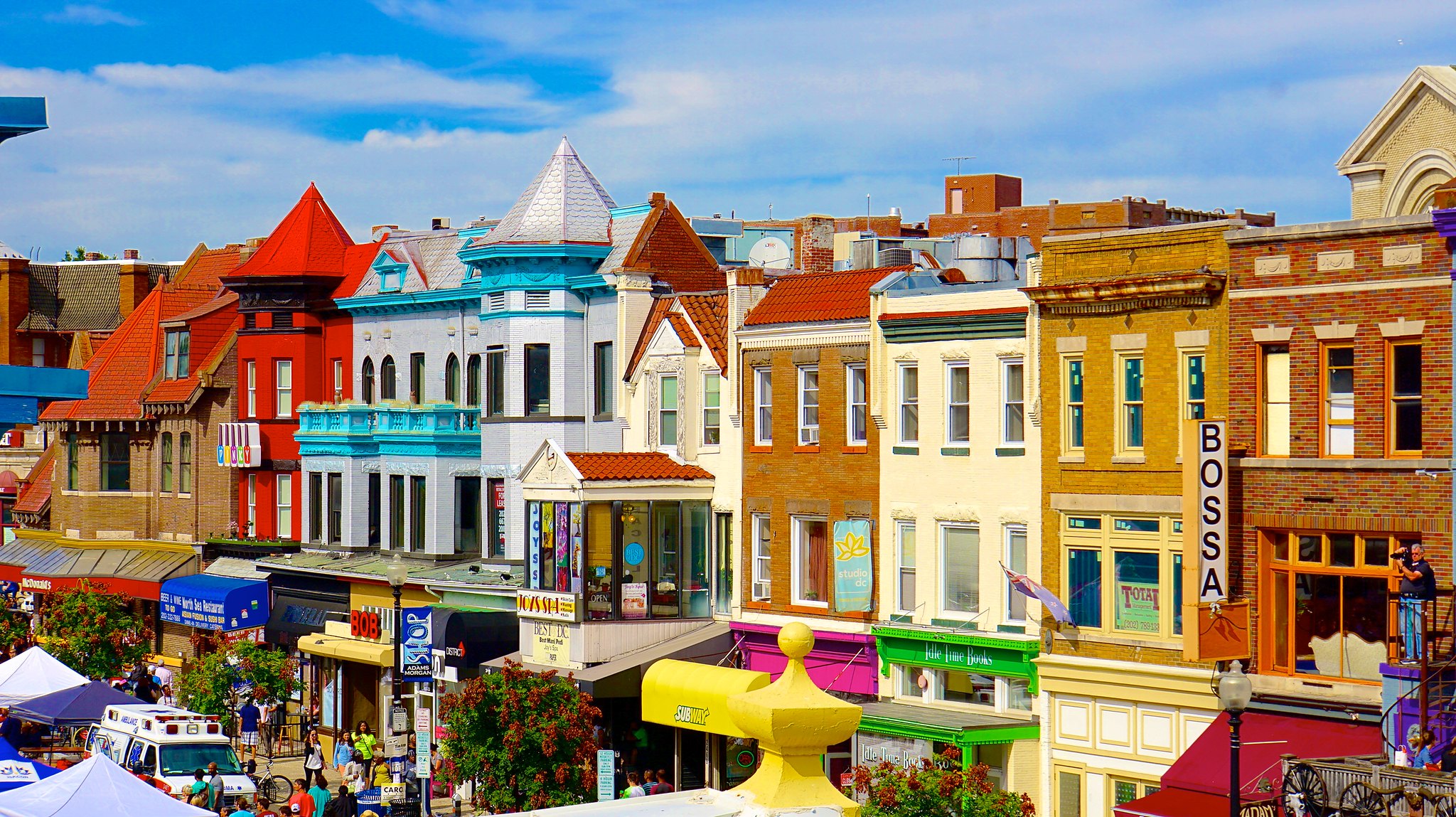 U Street: The Heart of African-American Culture in DC
During the 1920s and 30s, U Street was the center of the jazz and music culture, and it still is today. In fact, it is the birthplace of Duke Ellington, one of the heroes of Washington, DC. It is also home to the Lincoln Theater, where you can catch shows by some of the biggest names in music and stand-up comedy.
If you are craving some of the best food in the city, you can pop into Ben's Chili Bowl for a half-smoke sausage. This impressive restaurant has been open since 1958. After you've eaten, you can stop in at one of the many hip bars in the area.
If you're looking to move to the center of the DC nightlife scene, then this might be the best neighborhood for you. There is something to do every night of the week. You can expect to find a lot of college students out on the weekend, so young families might want to steer clear.
Capitol Hill: Best Neighborhood for Politicos
If you're a budding politico, then Capitol Hill is where you want to be. This neighborhood is the home of the United States Capitol and the Supreme Court, which creates a lot of opportunities for young professionals to make connections.
You will also find the Eastern Market, where vendors sell delicious and ripe fruits, vegetables, cheese, and meat. On the weekend, this same market transforms into an antique and handcrafted goods bazaar. 
You can expect to find chic townhomes with hip decor, but they'll cost you a pretty penny. This area is best for career-minded professionals who spend a lot of their time at work.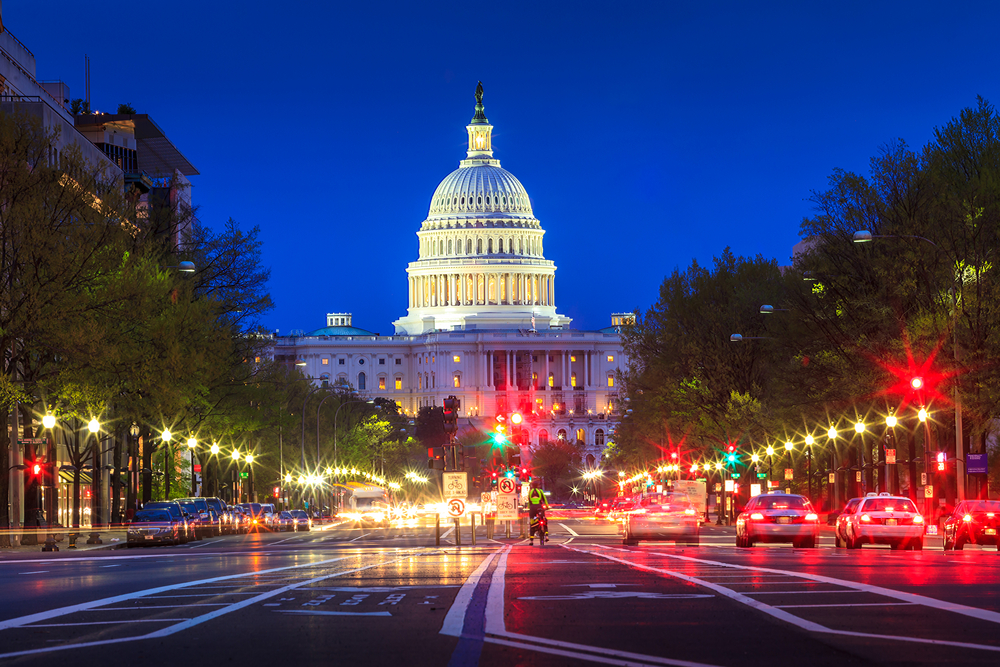 Penn Quarter: Perfect for Foodie Adventures in Chinatown
Penn Quarter is famous for Chinatown, marked by the beautiful Friendship Arc. There are markets and authentic Chinese cuisine around every corner making this area perfect for culinary enthusiasts. You can try a new dish every night of the week.
Penn Quarter is also home to the National Portrait Gallery, which showcases paintings of US presidents and other influential figures. This area would be great for people who enjoy spending their free time walking around museums and markets. 
Apartments in this area are slightly cheaper than other neighborhoods, which is great for working couples who want to save a bit of money. 
Navy Yard: Waterfront Oasis for History Buffs and Sports Fans
If you love learning the history of every city you move to, then Navy Yard is perfect for you. As you take in the scenes, you can learn the history of World War II naval ships. In the summer, you can even paddle and play on the Anacostia River, which is perfect for families with kids.
Being near the water will always up the price of real estate, which is no surprise. This area might be best for established couples or families looking for a long-term property to purchase. 
If you're interested in meeting other sports fans, then check out the Nationals Park stadium. On game days, this area is crowded with Nationals fans hoping their team takes home a win. Baseball games are fun for the whole family. Don't forget to try the hotdogs at the stadium. They're exceptional!
Chevy Chase: Thriving Affluent Suburban Community
If you want to walk, bike, or run on leafy trails in a safe neighborhood, then this spot is for you. This neighborhood borders Rock Creek Park on the Eastern side, which offers plenty of opportunities for outdoor adventures. 
You will find beautiful homes with plenty of greenery and trees. This neighborhood is great for folks looking to take in some fresh air and vibe with the local neighbors. The housing market is booming in Chevy Chase, so if you're looking to settle down and buy a house, now might be a perfect time.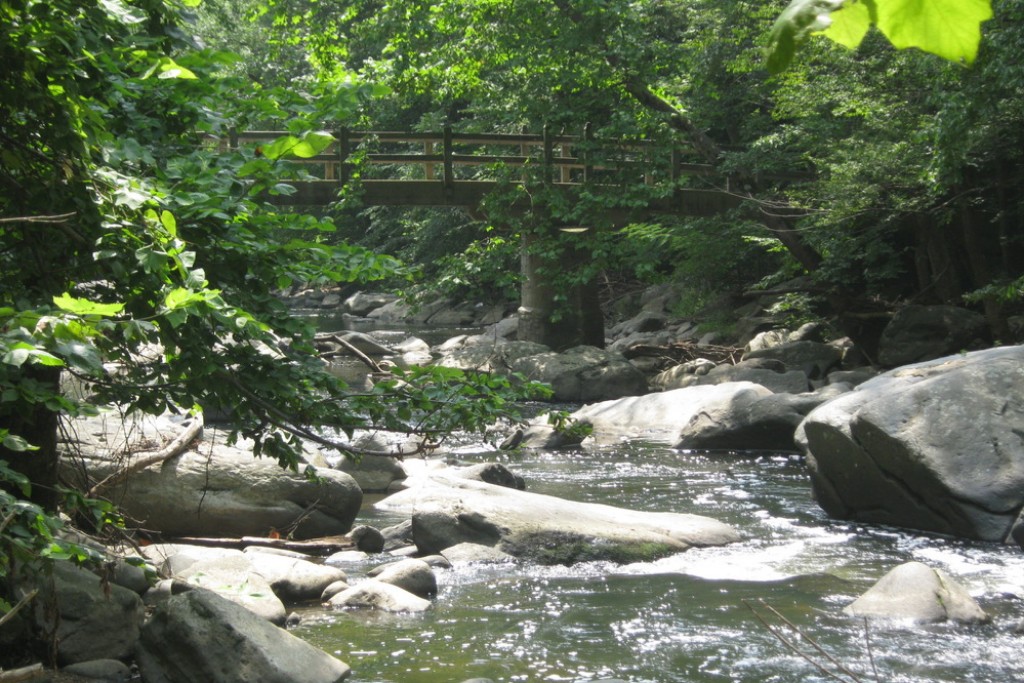 Columbia Heights: Cultural Hub With a Panoramic View of Downtown
Columbia Heights is a suburban community in the northwest of DC with a thriving cultural atmosphere. There's plenty of comfortable and homey bars and pubs for you to grab a drink after work. And for the sports fans, there are enough sports bars screening the big games. 
This area is also home to DC's largest Hispanic population. You can check out the Mexican Cultural Institute and experience exhibits on life and art in Mexico. This neighborhood is also home to the GALA Hispanic Theatre, where you can see a showcase of Latino performing arts. 
This neighborhood is perfect for young families since real estate is cheaper than in Chevy Chase. It sits a bit outside of the city, so green space is abundant. You will still have access to public transportation, which makes getting to work much easier. 
---
Everyone wants to live in a community where they can thrive and strive for their goals while surrounded by like-minded folks. Washington, DC has a neighborhood to suit everyone's needs.
Now choose your new location with confidence!
Renting an Apartment in Washington DC: What You Need to Know