Home to the White House and Capitol Hill, Washington DC's lesser-known attraction is its colorful artworks and street murals. The city's vibrant neighborhood walls celebrate everything from Greek gods to simple flora and fauna.
Here's some of DC's unmissable street art — a feast not just for sore eyes but also for your Instagram feed!
---
Greet Neptune
in Bloomingdale
This bright, mythological piece right in the heart of DC's Bloomingdale was created by artists Jeff Huntington and Juan Pineda during the 2019 Art All Night DC. The artwork shows the aged, Roman god of the sea looking down at pedestrians against an eye-popping backdrop of colorful blocks.
📌 Location: 81 Seaton Place NW
View this post on Instagram
Support the #BLM Movement at Black Lives Matter Plaza
This mural in downtown Washington serves as an awareness campaign against racial discrimination. This 35-foot-tall street mural was painted by the DC Public Works Department in bright yellow letters soon after the "Black Lives Matter" protests erupted. The DC flag accompanies the mural which spans two blocks of 16th Street.
The idea for the mural came about when Mayor Muriel Bowser asked her staff to find a safe space for the protesters to unite. She also renamed the street to what is now the Black Lives Matter Plaza to honor the memory of Minneapolis security officer George Floyd.
📌 Location: 16th Street NW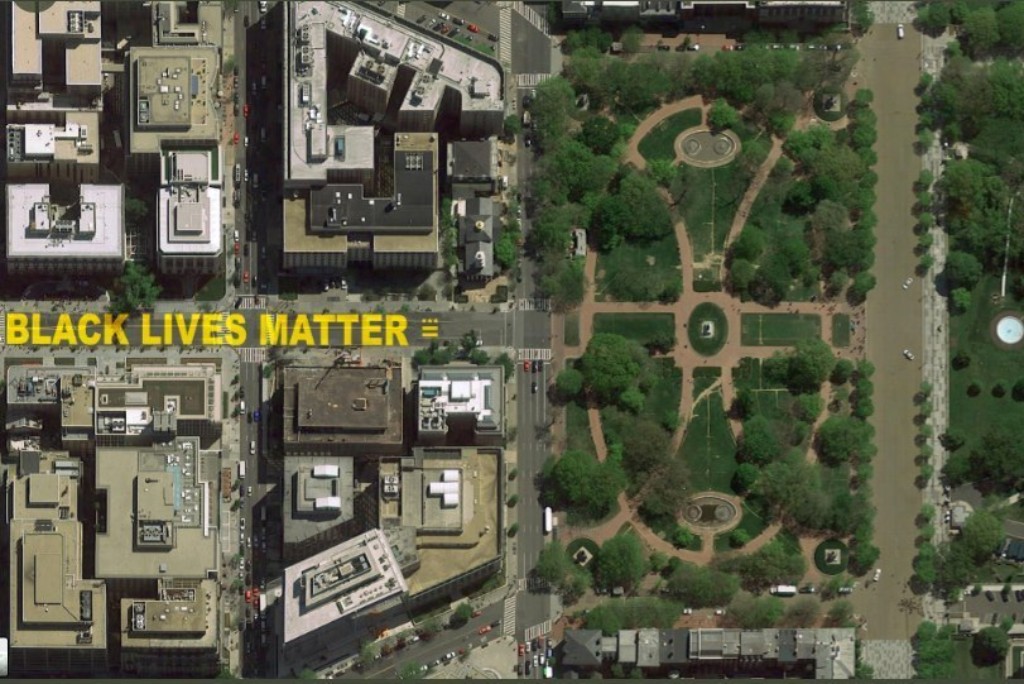 Check Out a Piece of Japan in Georgetown
Located just a short walk away from M Street in Georgetown, this famous mural is a replica of Hokusai's The Great Wave off Kanagawa. It was painted in 1974 by John McConnel, a painter and an architect, who was tasked by his friends to beautify the wall of the rowhouse that they own.
📌 Location: 3510 O Street NW
View this post on Instagram
Get Hungry With These Carrots in Blagden Alley
Known as XXIV Carrot, this street art in Blagden Alley created by artist Marcella Kriebel with the help of the locals features 24 different carrots. Kriebel is the one who designed and outlined the artwork, while the general public was asked to grab a paintbrush and paint it as their contribution to the artwork.
📌 Location: Blagden Alley NW
View this post on Instagram
Be Patriotic With Mount Vernon Triangle's
Voice of Change
Also known as Voices of Change: Representation, Progress, and Hope, this artwork was installed in early 2021 in honor of Martin Luther King Day. The commemorative painting aims to unite Americans to bring peaceful, positive change in the society.
The public mural features Black leaders like DC Mayor Muriel Bowser, Vice President Kamala Harris, and Dr. Martin Luther King, Jr. It was painted by local artists Shawn Perkins, Levi Robinson, and Dez Zambrano as part of the 2021 MLK Day of Service Project.
📌 Location: 5th St NW & K St NW
View this post on Instagram
See This Accidental Watermelon in Logan Circle
The Watermelon House in Logan Circle is another must-visit street art in Washington DC. The owners of the house at Q Street wanted to paint one of the sides red but the end result turned out to be pink instead. To rectify the faux pas, the owners painted some black "seeds" and a green "rind," turning their pink house into what is now the Watermelon House.
The artwork is so popular that it has its own Instagram account, which features people jumping in front of the wall.
📌 Location: 11th Street & Q Street NW
View this post on Instagram
Take a Picture with Elizabeth Taylor at Dacha Beer Garden
Dacha Beer Garden in Shaw is a hip and pet-friendly brewing pub and cafe in DC. However, it is also home to one of the most popular street art in the city — a giant painting of Elizabeth Taylor, one of yesteryear's most glamorous movie stars who dedicated her life to raising awareness about HIV and AIDS. Created by Byron Peck, the 50-foot pink mural is the perfect backdrop to the no-frills beer garden.
📌 Location: 1600 7th Street NW
View this post on Instagram
Get a Glimpse of This Colorful Church Near Southwest Waterfront
Known as the Culture House, this Baptist Church-turned-arts and culture community center and gallery near Southwest Waterfront is one of the most Instagrammable places in Washington DC. The outside of the building is a riot of colors. The psychedelic-looking graffiti makes the place a rage among teens and the LGBTQIA+ community.
📌 Location: 700 Delaware Avenue SW
View this post on Instagram
See Iconic Musicians at
The Resurrection
on U Street
If you love jazz or want to catch a glimpse of legendary jazz musicians, head to U Street.
Known as The Resurrection, this one-of-a-kind street art features musicians Miles Davis, John Coltrane, Duke Ellington, and Billie Holiday.
What makes this street art stand out among the rest is its breathtaking stargazing background and the use of pencils, piano keys, and Miles blowing through his very famous trumpet.
📌 Location: 2001 11th Street NW
View this post on Instagram
---
While DC is filled with museums and galleries, street art is a particular attraction in the city. If you're planning to spend a weekend soaking in DC's history, diversity, and culture, the numerous artworks lining the city walls should definitely be on your itinerary!