Are you considering moving to the nation's capital any time soon? Obviously, the first thing you would want to research is the average cost of living in Washington DC.
Perhaps, we should start with informing you of this cold hard fact:
The District of Columbia has the second-highest cost of living index of 154.7, after Hawaii, whose index is 187.6. This means living in Washington DC is 54.7 percent more expensive compared to the national average.
DC is respectively followed by New York (145.0), California (137.5), Massachusetts (133.2), Oregon (131.6), Alaska (125.8), Maryland (124.4), Connecticut (120.4), Rhode Island (118.2), which are the rest of the top 10 most expensive US states.
Mississippi is the most affordable state with the cost of living index 84.6, which is far below the national average. It is followed by Kansas (86.8), Oklahoma (87.9), Alabama (88.1), Tennessee (88.5), Arkansas (88.8), Georgia (89.7), Indiana (89.8), Missouri (90.4), and Iowa (90.4) respectively in the top 10.
The figures are from the first quarter of 2021.
If we look at 2020 data, we notice that DC has seen a drop in its cost of living index — from 161.1 — since last year. But the city remains in the second spot after Hawaii.
As for housing prices, DC's housing index is 257.4 in 2021, also following Hawaii (313.1), which has the most expensive housing. Needless to say, housing in New York (230.2) and California (192.7) is cheaper than housing in DC.
Housing plays the biggest role in DC's high cost of living. But of course, it depends on which neighborhood you are planning to relocate to.
As of July 2021, the average rent in Washington DC is as follows, according to the San Francisco-based homesearch website Apartment List:
For a studio apartment: $1,729
For a one-bedroom apartment: $2,344
For a two-bedroom apartment: $3,427
For a three-bedroom apartment: $4,438
Rents in the District have decreased by -3.67 percent compared to 2020.
Here are the median rents (for a two-bedroom DC apartment) by neighborhood in 2021, according to the rental marketplace Zumper, Inc.: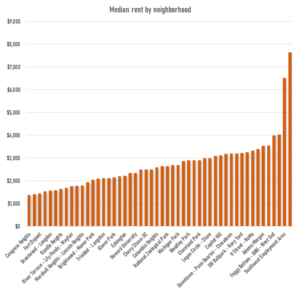 Keep in mind that you need to earn at least $62,200 annually in order to rent an average priced studio apartment in DC. To rent a one-bedroom apartment in DC, you should be earning approximately $84,300 per year.
For a two-bedroom apartment, your annual salary should be around $123,300, and for a three-bedroom apartment, your annual income should be around $159,700 or higher.
Groceries
DC's groceries index in the first quarter of 2021 was 112.7, which lands it in the fifth spot after Hawaii (157.9), Alaska (132.7), New York (118.3), and Massachusetts (117).
In other words, DC residents pay 12.7 percent more for groceries than the national average. The average monthly grocery bill in DC is around $300.
Utilities
Utilities, which is another main category of living expenses, cost eight percent more than the national average in Washington, which comes 10th in this year's first quarter.
DC follows respectively Hawaii (169.2), Alaska (157), Connecticut (132.3), California (128.5), Rhode Island (125.8), Vermont (120.6), New Hampshire (115.2), Massachusseetts (110.8), and Pennsylvania (109.5).
The price of basic utilities – electricity, heating, cooling, water, garbage — for a 915 square foot apartment in DC is around $152 per month.
Transportation and healthcare
If you move to DC, prepare to pay 10 percent more for transportation than the national average. Approximately $13,000 of transportation cost is added to the annual budget of DC households.
When it comes to healthcare, you can relax a little as healthcare expenses in DC are almost nine percent below the national average with an index of 91.4.