When you feel like you could have a drink to cool off on these hot summer days in the nation's capital, you would be doing yourself a great favor by hitting an Irish pub around.
To equally rid yourself in the night of whatever was unbecoming in the day, anywhere else could hardly be better than those intimate spots. Locating them, however, will take not a minute longer than what it should. Because for that, we got you covered.
Here is where to go in town for having a really good time with the best drinks, accommodating vibe and the friendliest conversation:
Shenanigan's
Let's start with the least expensive beautiful Irish pub in all of D.C. At Shenanigan's in Adams Morgan, one of the city's liveliest neighborhoods for nightlife, you will get wonderful drinks for incredibly reasonable prices in a cozy setting. It is one of those simple yet fun, hole-in-the-wall type of neighborhood bar you will look forward to return to.
Whether during the work week or on the weekend, there is no chance you would regret going there for the best authentic Irish beers and pub experience whatever little money could buy in town. It remains open till early morning every day at 2450 18th Street NW.
Can you believe you can enjoy an open bar on a Friday or Saturday night for as little as $10 here in D.C.? Every time, it proves a super delight, considering how much you can save on having so much fun. Visit its website for all the happy hour deals the generous place offers.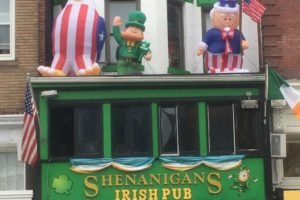 Fado
In Chinatown, I cannot think of what is not to like at Fado, a massive Irish spot for the area where there is savory food, not otherwise quite imaginable at a pub, besides tremendous variety of drinks. Even during the happy hour on a weekend night when it is buzzing with customers, service here is always kind and quick.
Make your pick and order, that's all you have to do to enjoy decent company and charming conversation with once strangers. The place is so warm that it bridges all the gaps you might have with other customers before stepping in.
Check it out at 808 7th Street NW on any day of the week till 2:00 or 3:00 in the morning. And know that unlike most Irish pubs, this place opens before noon every day and as early as 7:30 a.m. on weekend mornings. Its website has all that you may need before arriving here. Don't skip it for too long!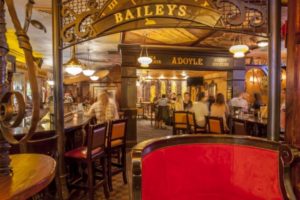 Dubliner
For about the same quality service for about the same price category, D.C. residents and visitors could also give their coveted Irish experience a try at Dubliner, which is in walking distance from the Union Station. It certainly has a warm and inviting atmosphere that could help travellers cool off after a long journey home, for instance.
It is, however, already well known to many people and not anymore a hidden gem, so expect to find this solid Irish restaurant and pub already packed when you plan to visit.
The fact that it offers live music every day at its 4 F Street NW location is part of the reason why Dubliner gets superb reviews online everywhere on the web. Thus, people just keep looking for a table here. Make haste and grab yours. Call 202.737.3773 to check if you are lucky enough to reserve one, shortly before your planned arrival.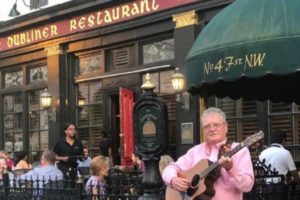 The Celtic House
Okay, this fourth one on our list is not exactly in D.C. but in Arlington, across the Potomac River, but it qualifies as a wonderful Irish spot that is conveniently accessible for those in the capital, too.
What The Celtic House provides is a true Irish experience in terms of both food and drinks. It is so good that some visitors might like to keep their experience to themselves so as not to draw too many people here. It has got, however, so big a room to accommodate larger groups of customers than it normally does, so it is highly unlikely to feel overcrowded here.
Following an over-century-long hospitality business tradition in both Ireland and in the U.S., The Celtic House on its website proudly promotes itself as being voted the best Irish bar in the state of Virginia by Yelp reviewers, as well as Buzz Feed Life and Irishcentral.com.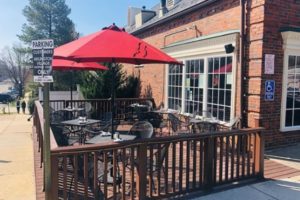 Rí Rá
Let's now ramp up our expectations of an Irish pub even higher and say we are willing to pay for enjoying our ales at a rather more spacious place with a fancier decor and all inside the nation's capital, not even a short ride away as should be necessary for The Celtic House.
Rí Rá at 3125 M Street NW in historic Georgetown is where we exactly would want to be. The separate whiskey room upstairs receives much respect and adoration from every visitor. With an enormous variety of over 400 drinks there, I cannot think of any scenario why your experience here should not be all but immaculate.
The place is much bigger than Shenanigan's and also offers delicious food, like brunch for instance in early afternoon when it opens any day of the week. Happy hour deducts $1 from every beer and brings to your table a memorable glass of wine for just $6.
Every time you overhear Irish accent being spoken from around, you will know that it testifies to the authenticity and quality of this place as an Irish bar.
The Irish say "There's no beers in heaven and that's why we are having ours here." As well as an incredible selection of whiskeys, Rí Rá on its website promises to serve whatever is your poison from domestic and international draughts to handcrafted cocktails, wines and spirits.