Only few people could best the barbers in terms of how much men rely on them in their lives. Parents, partners, and a few friends perhaps; but not much else!
So, it is profoundly important for men to find their, possibly life-long, hair stylists true to their craft and establish a strong bond, sort of a doctor-patient relationship, with them as soon as possible.
The following list of the most skillful barbers in D.C., therefore, could be something some of our readers would always remain grateful for.
Figaro Mobile Barber
Some barbershops have a lot of wait and unnecessary talk. No matter who you are, after you step in that kind of establishments, you cannot avoid being exposed to far too much rubbish at once, spending so much more time than you should for a haircut, and still ending up getting a bad one. For those of you who dread that sort of experience as much as I do, Figaro Mobile Barber is like gold.
Hair stylist Antonio Botticelli is performing the mobile grooming service as good as it gets in all of the greater Washington area. What you need to do is just book him online and watch him do his magic.
You can definitely expect him to arrive at your place on time, set up his work area in about five minutes, give you an excellent hairdo and leave after perfectly cleaning up.
He is kind, carefully listens to understand what exactly you want your hair to look like, make suggestions as per the nature of your hair and lifestyle. Plus, there will be no junk talk, no wait time! For $100 alone, you can hardly get that royal feeling anywhere else.
Still dreading the cost? You can always pay a previously scheduled visit to his barbershop, except on Sundays and Tuesdays, at 1875 Connecticut Avenue NW near Dupont Circle, for half the mobile price.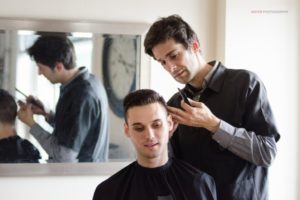 Noah One Grooming
Ok, let's say you are still unwilling to pay some 50 bucks on a haircut and you want to hire the same talent for significantly less than that. Then, your best course of action would be knocking on Serge's door for Noah One Grooming at 1406 P Street NW.
The good thing about this place is that it is cheap, open at late hours so you can go there after work and accepts reservations. Serge, the store's highly personable, kind and experienced owner-barber, hardly disappoints with the service he provides for as little as $25.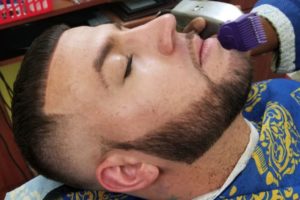 Khalid Barber Shop
Are you living west of the Potomac but coming to D.C. often just for work? Then, it might be good to know that the same quality service for the same price is accessible in Arlington, as well. Find Khalid Barbershop at 3865 Wilson Boulevard!
Here, you can book an appointment with the master barber, Khalid, and avoid all the wait time that would otherwise be inevitable with a walk-in visit.
The quality of the haircut you will get at Khalid's hands will simply be immaculate and the price is, again, only $25.
On a day you are somewhere in the area, or when you can tolerate the half-an-hour drive from downtown D.C., you wouldn't regret if you go pay him a visit. Don't judge him by that low price. He is definitely not one of those "butchers"!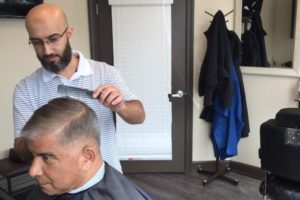 Signature Cuts & Shaves
What if you could neither get an appointment with Figaro nor take the drive to Arlington for Khalid? What if you have a date tonight and it feels so wrong to go with an unruly hair? Signature Cuts & Shaves could then be a real lifesaver!
It is because there is actually not just one but multiple brilliant barbers at this establishment and same-day appointment is generally possible.
That it is right on U Street, one of best neighborhoods for nightlife in town, makes it so easy to continue with the rest of the day's planned fun after a haircut. An Executive Cut that includes a clean cut, shampoo, hot towels, a straight razor shape up and facial massage costs $60.