It is that time of the year again. Kids will knock on doors, threatening neighbors with tricks if they don't get any treats. Those who are less fortunate, however, might also experience a few more frights because of prankster friends and family members. Having the spookiest costume at hand will be paramount to deter, retaliate, and well, go beyond making them regret.
As the end of October draws near, costume stores expand stocks to offer every customer what he or she is looking for. The size and variety of stocks is also important to inspire visitors who arrive with no clue to put on for this Halloween.
For both, you can always go digging at one of the best thrift stores in town, but the following businesses in and around D.C. are usually the best places to go to for everything else that is brand new: 
X-treme Halloween
Address: 1616 Rockville Pike, Rockville, MD 20852
Phone: (301) 231-6303
Other than for executing a prank or fighting one off, highly creative costumes are essential to join Halloween parties, as well. Without one, therefore, you would have to turn down invitations to what might be true fun. X-treme Halloween is there to make sure that doesn't happen.
Here, you can find costumes for the whole family — you, your partner and kids, and grannies who still are very much into a scary night. Its friendly owner and staff take what they do very seriously and are pretty knowledgeable on what they have in their vast inventory.
Besides, they attend to every customer so courteously that you think you are not buying a scary costume but a $3,000 dress or suit for an exquisite night ball.
And here comes the best part: You don't always have to spend a three-digit amount on your next Halloween outfit (and for the one you plan on buying as a present) here. The store has this clearance section and every item you purchase from it will get you a second one for as low as $10.
Unbelievable, right? Go check it out yourself!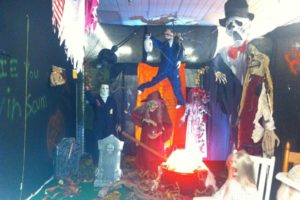 Party Mania
Address: 8353 Leesburg Pike Vienna, VA 22182
Phone: (703) 734-7755
While close to DC's borders, you might also want to give Party Mania a try for an equally immaculate Halloween shopping experience. Originally a store for all types of party stuff, this place puts out a nice Halloween costume collection, knowing that people will come looking for them particularly in the second half of October.
So if you are one of them, browse their endless aisles to grab your next Halloween costume. At other times, know that it is a cool one-stop party-shopping spot. A bit on the high-end of the market, but it is acceptable for all the great products and service they offer.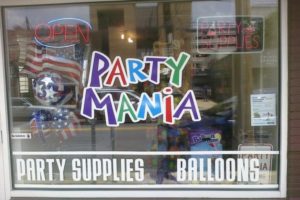 Spirit Halloween
Address:

14173 Crossing Place Woodbridge, VA 22192
Phone: (866) 586-0155
If you leave town not to the north but to the west, across the Potomac, in search of that dream costume for this year's big day, it is highly likely that you end up buying it at Spirit Halloween. This is as popular a store as X-treme Halloween for good reason.
It has an enormous inventory of all types of costumes and tools designed specifically for Halloween. Creepy clowns, steampunk, zombie outfits, and masks of all imaginations… the list of items available here every Halloween shopping season goes on and on.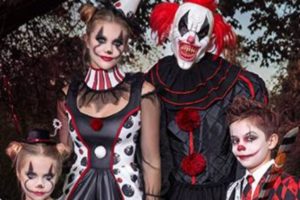 Total Party
Address:
1750 Crystal Drive Store # D-40 Arlington, VA 22202
Phone:
(202) 333-5950
After a conveniently tolerable subway ride to Crystal City, however, you won't be wrong to land yourself inside Total Party. Just like Party Mania, as its name suggests, this particular store is normally for party shopping. Yet, it stands out also with all the products it carries specifically for Halloween.
So, if you plan on turning into a witch or a monster with all the frightening features this October 31, you won't be disappointed for stopping by 1750 Crystal Drive and visiting the underground mall there.