When it is mid-Fall, you start seeing more people sneezing with a runny nose on public transport and calling in sick at the office. Yes, all of us know that it is, again, that time of the year. But, do we also know how to distinguish seasonal flu, which could be life threatening, from common cold that should normally go away in just a few days without any hospitalization?
Behind both flu and cold are viruses. So, the number one rule is that you cannot treat them with an antibiotic. Those drugs are totally useless against viral infections and could even be detrimental to your wellbeing in such cases.
In both flu and cold, you have an infection in your upper respiratory tract. Therefore, there is an annoying similarity between their symptoms. But, there are also some key differences.
Look for High Fever, Exhaustion, Chills and Aches
If you are experiencing severe chills and aches, have high fever, such as over 101 °F (38.3 °C) degrees, and feel like you cannot move a muscle because of extreme exhaustion, then chances are you have the flu, rather than a common cold. You would, therefore, be better off by having your respiratory specimen tested for influenza virus that causes the flu.
In most serious cases, flu leads to inflammation of the patient's lungs, as in pneumonia, or even their heart and brain, as in sepsis. Please be careful for these are all very dangerous disorders and can result in loss of lives, if you patients don't get proper treatment.
So, make sure you don't lose much time before seeking professional medical attention, particularly if you start wheezing and suffer from shortness of breath with persistent high fever.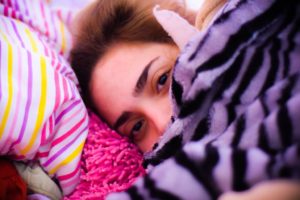 Rest and Drink
If you have the flu, your doctor may prescribe certain medication, depending on the severity of your symptoms and further risk to your health. And if you have already developed some other, possibly more serious issues because of the flu, hospitalization may also be necessary.
However, most flu cases tend to self-resolve like common cold. Regardless of which one you have, it is always paramount to rest and take in fluids rich in essential nutrients and minerals as much as possible.
Your immune system will fight off those viruses in time but it needs you to stop still trying to run from one place to another dehydrated. Listen to your body as much as your doctor. When they advise rest and fluids, they both mean it.
Otherwise, you would not only be leaving your own health vulnerable to deterioration but also those of others who could contract the same diseases from you. That brings us to the next section on prevention.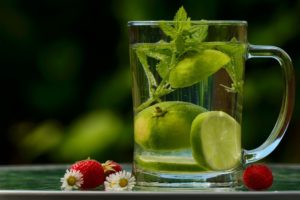 Don't Loiter; Don't Touch!
It is unfortunately not possible to avoid a flu or cold infection for sure. The following tips, however, are your best shot at getting closest to full prevention:
Both flu and cold viruses are transported in air and water. Therefore they can literally be anywhere. Some of them can remain infectious on indoor surfaces for up to a week.
So, it is profoundly important that you stay away from people who look sickly and are exhibiting symptoms like sneezing, coughing, and watery eyes/nose, etc. Close contact with them is the worst mistake you could make.
Moreover, keep in mind that every time you touch your mouth and nose or can't resist that urge to rub your itchy eyes after you touch somewhere else, you might actually be infecting yourself with a cold or flu virus. So, the second golden tip is: Be selective of where you put your hands.
I know how hypochondriac one might look by using a tissue every time you touch somewhere but do it if you think it is necessary, particularly in hospitals, restrooms and on public transport.
Or better yet, wash your hands more often and for longer between October, when those viruses start spreading, and May, when the usual season for the danger they pose to public health in the U.S. generally ends.
Carrying a hand sanitizer with you at all times might also be helpful in situations where you don't have access to running water and a bubbly soap.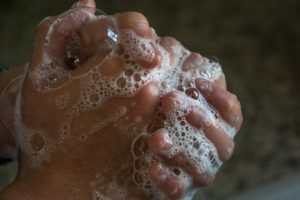 Don't Be Late for Vaccination!
The federal public health agency, Centers for Disease Control and Prevention (CDCP), advises all individuals that are older than six months across America to get the annual flu shot every year.
In two weeks after vaccination, those shots can protect you from most flu infections. So, schedule yours this year as soon as possible ahead of the flu season, particularly before February when hospitalizations usually peak.
***
Disclaimer Notice: The D.C. Post solely aims to raise public awareness on common health problems with its reporting. For actual medical advice, please only consult licensed medical professionals.