DC residents are able to get vaccinated against COVID-19 without the need to make an appointment, starting Saturday, May 1.
All 11 vaccination sites in the District will become walk-up centers that do not require appointments. Any resident who is at least 18 years old is eligible to receive a coronavirus vaccine shot upon entering one of them.
The Fort Stanton Recreation Center, the Langdon Park Community Center, and the Turkey Thicket Recreation Center are currently offering the Johnson & Johnson shot, which is a single-dose vaccine.
After Saturday, either one of the two-dose Pfizer-BioNTech and Moderna vaccines will be available at these three sites.
Individuals will get an appointment for their second shot after receiving the first one.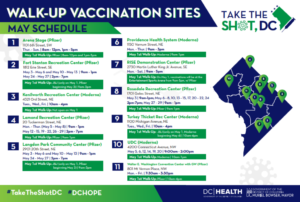 Pharmacies, other clinics and health care providers still operate with appointments.
Those 16 and 17 years old can get vaccinated at Children's National after scheduling an appointment.
Residents who are unable to leave home may request a vaccination at home for free by calling 1-855-363-0333 and making an appointment.
More information about available vaccines can be found at vaccinefinder.org.
Mayor Muriel Bowser also launched Day of Action on May 1, mobilizing volunteers for visiting neighborhoods and helping people plan their vaccination.