Skating is arguably not for everyone as it entails a higher risk of falls than, say, riding a bike or a scooter, but those who do it are convinced that nothing else with wheels could be more fun to ride.
Whether you take it as a good incentive to start learning it or you already are an experienced skater, Washington, D.C. offers many opportunities. Here is a list of the best skate parks in and around town: 
Maloof Skate Park
Let's start with two of those parks that are closest to downtown.
Most people have been to the part of the city near the RFK Stadium, but not many are aware that there is also a well-maintained skate park over there.
True, Maloof is small and that's why it doesn't have a large group of regular visitors. But, isn't it a fine reason to make the trip to 2471 E Capitol Street to check out this under-appreciated facility?
Yes, you won't have too many cheers from onlookers for every terrific move you'll make across the rink and over the obstacles. But chances are you will also have much more room to practice. Situated by the parking lot next to the stadium, the place is particularly ideal for children and beginners.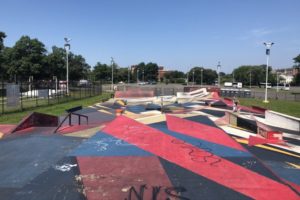 Garfield Park
Even closer to downtown, just a few blocks from the U.S. Capitol in the southeast, is Garfield Park. It is right next to the Whole Foods Market where you can always grab some real fresh food in case your tummy craves it in between.
It covers a much larger area than Maloof and is better known by the D.C. skater community for its perfectly convenient location. So, expect to see larger crowds here.
Among them will be not only skaters, but also those who come here to play basketball, tennis, and beach volleyball. Many other sportspeople and parents bring their kids to the playground, as well.
You might, therefore, have some difficulty concentrating on what you are doing and cannot really escape that feeling of being watched. Well, if you don't care what others might think or just even look for some attention, this is exactly the place to be for all skate aficionados.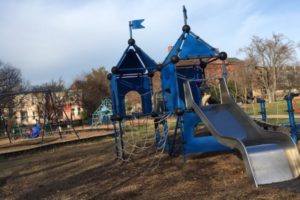 K-Town Skate Spot
For those, however, who come to D.C. only for work and rather live in the northern suburbs in Maryland, the best option would be K-Town Skate Spot in Kensington.
Make no mistake, though, this is not really an ideal place for children and beginners as mainly teenagers who are really good at what they do frequent it. True performers they are!
But, could it also be somewhat dangerous to try to stay upright on those tiny wheels you were not so familiar with previously? Oh yes! So, be careful with what's around if you still intend to come here as a novice or with children.
For all else, though, it has many ramps and other obstacles. Make the trip to the intersection of Warner Street and Summit Avenue to find it perfectly working for you, too!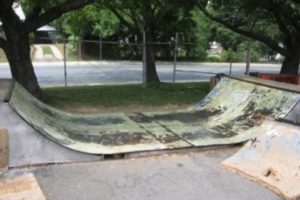 Powhatan Springs Skate Park
All those ramps available at the facilities above are fine, but if what you are seeking is rather a mighty bowl, you should really cross the Potomac and go to Arlington. It is where famous Powhatan Springs Skate Park is.
It has recently been rebuilt and made even better than it was before. What would await you when you arrive at 6020 Wilson Boulevard today is an ultimate skate park.
Covering a total area of over 16,000 square-feet, it has many features including a deep pro bowl, a deep egg bowl and a "snake zone" with roll-in, escalator and doorway.
Conveniently, the facility has restrooms and a drinking water fountain. Take my word for it; nothing in the area gets better than here!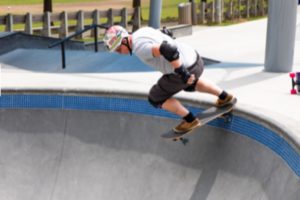 Wakefield Skate Park
If you, however, live even further west, like in and around Annandale, then you might also want to check out what is available at Wakefield Skate Park.
Come here especially if you are a beginner to this type of sport or you are intending to bring children. Because Fairfax Park Authority does a very good job in maintaining the area and keeping everything in order.
It allows only one user at a time at each ramp to avoid the risk of accidents. Harassers and violators are quickly shown to the door and the environment remains as safe as possible for all skaters — old and young, new and experienced. That is the good thing about Wakefield.
You don't have to worry much if you or your children might get run over by a careless skater the next minute. Still, though, it'd be best to keep your helmets and other protective gear on at all times inside and observe who does what around. Find it at 8100 Braddock Road in Annandale.