"Barbecue" might be a Haitian word but Koreans, an entire world away, are the ones who are globally famous for their smoky meat. And it is not without good reason.
In Korea, barbecue represents a golden opportunity to bring whole families together around an open grill. It is an experience that relatives share with utmost joy as both chefs and guests. Everybody cooks. Everybody eats. Tons of meat, usually pork and beef, make pleasant and really long reunions possible. Those meals last literally for hours and don't end until nobody can take a single bite more.
Wherever there is a culinary tradition, there is also a brilliant business idea. And opening a Korean barbecue (KBBQ) restaurant is definitely one of them. Many entrepreneurs, therefore, have invested in providing Koreans with the same experience far from their homes. Non-Koreans, like myself, become beneficiaries for life, just without a similar pair of genes, in the process.
Having installed grills on their tables, those establishments offer much more than dining. But despite being a major capital, D.C. weirdly remains a city whose residents should actually leave it to enjoy fine KBBQ. Thank God, their migration doesn't have to take more than half an hour. Annandale, home to one of the greater Washington's Koreatowns, awaits them with open arms and amazing food.
Kogiya
At 4220-A Annandale Road is most justifiably the first such establishment on our list: Kogiya Korean Barbecue.
Here you will find metal tables, open grill and a totally unpretentious atmosphere where nothing is intimidating. And for as low as $25, you can get the amount of meat you cannot possibly finish here.
The friendly welcome you receive upon entry never stops returning to your table as you progress along your lunch or dinner. So much so that it often invites reactions like "Oh my god! I don't know how this place could even be better?" or "Where have you guys been all my life?" A single visit will be enough to have you join its rapidly growing group of fans. Plan yours as soon as possible.
The only downside is that it is so very famous in and beyond the neighborhood thus almost always has a long waiting list. What is worse is that the restaurant doesn't accept reservations. So, the closest thing to a reservation is getting your name on the waiting list well ahead of your visit. Even then, however, it is still possible that they might ask you to wait to get a table for some 15 minutes. You'd better consider that paying your homage before entering a protein heaven!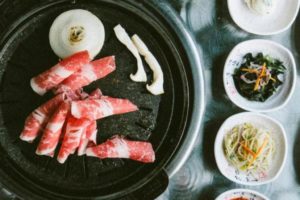 Honey Pig
For those who cannot afford waiting for some reason, however, there are two fine alternatives to check out only a few blocks away. One of them is Honey Pig at 7220 Columbia Pike.
With another location in Centreville, Virginia, three others across Maryland and another one thousands of miles away in Taipei, Taiwan, this is actually a chain of restaurants. Where its success story started over a decade ago, the Annandale location, however, is always special to both founder Micky Kim, a Korean immigrant, and to customers.
All the meat options and side dishes, or banchan, are as good as to never disappoint any patron. Considering how different sort of people with various preferences and expectations come here to eat, it is extremely difficult to attain that much of customer satisfaction. So it is an explanation how the chain could grow so fast in such a short time.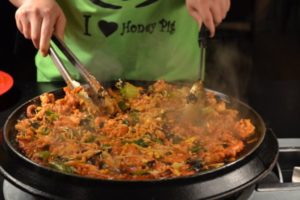 Nak Won
The second of those two alternatives to Kogiya in Annandale is Nak Won Restaurant at 7315 Little River Turnpike.
Of all the three restaurants we have so far on our list, this is the one where you stand the biggest chance to actually enjoy zero wait time. And that is not because the place is so much worse than the other two but because it is much less known due to some marketing shortfalls. Know this much and you will understand why: It doesn't even have its own website.
The minute you step in, however, you will, too, testify to the fact that you are at an authentic KBBQ spot. And after you try what it has to offer, you will know your first impression has not wronged you.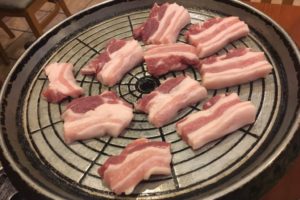 Firepan
Not exactly in Annandale but still west of Potomac outside central Washington is another great KBBQ restaurant: Firepan.
What makes it special is the two all-you-can-eat options it offers for less than $30. For those with really big appetites and on the days you feel like devouring a whole beast, Firepan is the place to go to.
The amount of food it offers for reasonable prices, however, is not the only reason why it is on our list. The incredible taste within every bite of that enormous amount is simply mesmerizing, as well.
Firepan is a restaurant where you cannot possibly ask for more, either in terms of quality or quantity. And that is exactly why even Korean-Americans living in Annandale sometimes feel like making the trip to 6793 Wilson Boulevard, Falls Church, to eat like they used to back in their peninsula.