Malaysia is a diverse nation, so is its food. With significant Chinese and Indian influences, as well as majority Malay, it has a vast potential to appeal to almost any culinary taste. And the fact that it remains largely in the dark in Washington, D.C. is a huge disservice to all the townsfolk who might most enjoy feasting on it.
In the fabulous Southeast Asia, Malaysia is an islander nation that shares land and maritime borders with half a dozen others. Seafood, therefore, plays a primary role characterizing its cuisine, together with arousing spices, soothing coconut milk and varieties of quite possibly the world's highest quality rice.
It is, however, not easy to locate ultimate Malaysian restaurants. So, while preparing the following list, we simply looked beyond the word "Malaysian" and identified the best eateries in and around D.C. There is Chinese, Indian or Indonesian food that essentially makes up what today's Malaysian cuisine is about:
Penang
The first of those spots, a Malaysian diner per se, is Penang at 4933 Bethesda Avenue in Bethesda, Maryland, just north of D.C.
Penang is the name of one of Malaysia's 13 states and is actually the wealthiest among them. For its powerful industries, it is like "the Silicon Valley of the East" and has become more diverse than it historically was, since it continues to receive waves of migration from outside as well as inside Malaysia.
People from across the region have come here in pursuit of a higher pay and a better life. The result, as is often the case with such rapidly expanding urban settings, is an amalgamation of various food options. Penang in Bethesda well represents that culinary richness.
One highlight of the place is certainly Mee Goreng Mamak, a traditional Muslim Indian dish made of yellow noodles, shrimp, eggs and vegetables in soy sauce with either beef or chicken as per the guests' preferences. It would cost you a lone $9 to savor this plate-full combination of flavors.
Another popular dish would be Satay, which is basically marinated meat or chicken barbequed on skewers. What makes it different from Turkish shish kebab and other similar options from Middle Eastern and Central Asian cuisines is the use of peanut dipping sauce on the side.
For a most delightful dinner in the Malaysian style, you should visit Penang in Bethesda at 8:30 p.m. the latest on any night of the week. For lunch, therefore, it would be more comfortable and there is now a "Buy Six, Get the Seventh for Free" promotion for lunch visits. See all you have to know before you arrive on its website.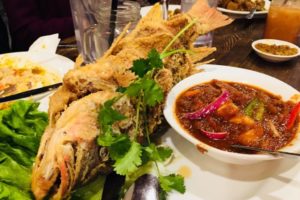 Banana Leaves
Further north, there is Banana Leaves Asian Cafe in Rockville, Maryland, a strictly takeout and delivery spot for giving colorful Malaysian specialties a try at a decent price. The staff prepare and deliver your food pretty quickly, and won't have you wait craving it for too long or until it is no longer at the standards you get used to.
Most people use its services via ordering online from Grubhub. So, if you are close enough for delivery and in the mood for experiencing what they have most skillfully to offer, join the loyal customer base they have built over the years.
And what should you order for the most enjoyable experience? That depends on how much spice you can tolerate in a single meal. If you are a true spice aficionado, then your best course of action would be to order Malaysian Red Curry to get a huge portion of chicken with eggplants, bell peppers, fried tofu and long beans in spice paste with coconut milk for as little as $12.95.
Spicy meat lovers would equally be thrilled to receive a Rendang Beef for a dollar more. If not, I would recommend opting for seafood and ordering Coconut Shrimp. Just let them know if you like your shrimp real crunchy or tender and they will cook it accordingly for the same price as Rendang Beef.
For the most casual lunch or an early dinner inside the tiny restaurant, you should travel to 160 Congressional Ln, Rockville.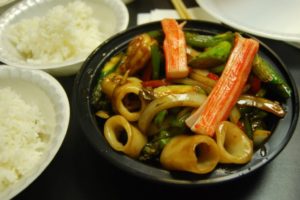 Kopitiam
If you are equally willing, or happen, to go west of D.C. to locate Malaysian food at a fancier spot, you are invited to hit Kopitiam at 5085 Westfields Boulevard, in Centreville, Virginia, which actually was a D.C. diner, but recently moved to its new address.
Mee Goreng Mamak, Rendang Beef or Chicken Curry… No matter what you are craving from the Malaysian cuisine, know that it will be served to perfection here. The place is incredibly famous for its generous portions and friendly, professional service.
Just be careful to skip the restaurant on Tuesdays when it remains closed. On all the other six days of the week, it is open at least till 9:30 p.m. Call 571-376-5693 to reserve your table if you like. It also offers delivery for areas in close proximity to its new location via online services such as Grubhub, Doordash and Seamless.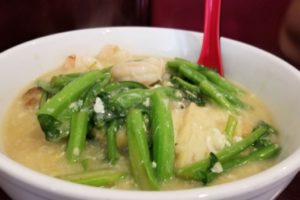 Saté Truck
Finally, let's pay attention to what sort of Malaysian food is available on wheels.
Those who have actually been to Malaysia won't stop talking about all the flavors they bought at almost no cost from food stalls everywhere they went across the country. It is truly mesmerizing how vast a variety of options is available at the hands of the most unpretentious vendors right on the streets.
Yet every time they mention a dish they tried to an Indonesian friend, they get an angry look, as Indonesians do claim most of what Malaysians say are Malaysian for their own culinary heritage, too. The truth is the two nations share a lot both in and outside their kitchens. Once claimed, however, the sole ownership of certain specialties triggers heated conversations between them.
That said, it is always good to know that one of the Saté Indonesian food trucks can be just around the corner, waiting for you to devour the most delicious bites (that are equally Malaysian). So if you are lucky, you can see one of them serving long lines of people at the Farragut Square, Chinatown, or somewhere else in D.C.
Better follow their Twitter or Facebook feed to stay on top of when and where they will be receiving orders to satisfy our well-established mobile dining habits.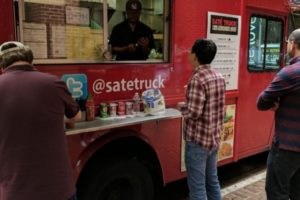 Best DC Restaurants for Zero Disappointment on Your First Date