If ethnic Uyghurs had a choice, they would have certainly preferred to be known for their georgeous food rather than the ongoing political controversy surrounding their rights in Northwestern China. No matter which side you take on the latter, it would definitely be amiss if you skip what Uyghur chefs could put on the plate.
The Turkic nation originally live in a vast region nearly the size of Alaska, the largest state by area in the entire country. The region is home to other peoples with various ethnicities and is also bordered by eight countries as distinct from each other as India and Russia or Pakistan and Mongolia. The rich cultural diversity within and closely around the region is believed to have immensely contributed to the Xinjiang, or more particularly, the Uyghur cuisine. And the best part is you do not have to travel thousands of miles to feast on the region's delicacies. Just be attentive to how much spice you can tolerate on a single day.
Here is a selection of the best choices available in the Washington metropolitan area:
Eerkin's Uyghur Cuisine & Tea Bar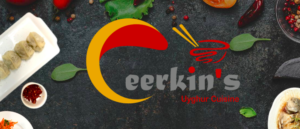 On 2412, Wisconsin Avenue, Eerkin's Uyghur Cuisine & Tea Bar offers a wide set of dishes to choose from for a fine, and yet inexpensive, dinner. If you feel like trying the popular sorts of Laghmans with pulled noodles, tasty meat and fresh vegetables, this is the place to be. And those who do not prefer eating meat but still crave the most satisfying food could give their Dapanchi of chicken and potato below a spicy sauce served with flat noodles a try. Both meat and chicken lovers, alike, may also devour the wide menu of different kebabs prepared in the region's style. Open till 11:00 p.m. on Fridays and Saturdays, and till 9:00 p.m. the rest of the week, the restaurant certainly deserves a visit. It offers both take-out and delivery.
Dolan Uyghur Restaurant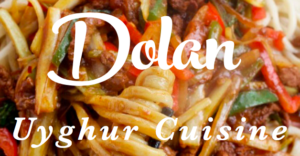 Other than the traditional Laghmans and a great variety of kebabs, Dolan Uyghur Restaurant stands out with its Hot Chicken Stew, a sizable portion of boneless, sautéed, marinated chicken mixed with vegetables on a bed of homemade noodles, so large that you can actually share among two or three people, if you separately order a delicious soup of your individual choice for entrée. To crown a dinner to be remembered even much later, you might want to try their honey or specific Dolan cake for dessert. The restaurant, definitely a place to return to after the first experience, remains open till 10:00 p.m. each night of the week and is located norhtwest D.C., on 3518 Connecticut Avenue. It also offers take-out and delivery.
Marco & Polo – Cafe and Grill

A bit off in Maryland, as opposed to the first two on our list, Marco & Polo still remains easily accessible within the larger metropolitan area and is absolutely worth the time you should take to visit. It is elegantly decorated, even has a whole corner designed in the traditional Central Asian style and offers an incredible range of food choices. Soups, salads, main dishes, desserts and drinks… everything is out of this world at this place. Order a Chuchura soup to start with and then move on to your choice of kebab next to an eggplant salad to only best complement it with a honey cake and a hot apple drink Uyghurs claim to be their own gift to the world cuisine. On 6504 America Boulevard, the place is open till 11:30 p.m. on Fridays and Saturdays, and till 10:00 p.m. the rest of the week.
Kiroran

And lastly, yet certainly not the least of all, we present you the Kiroran, named after the ancient Uyghur city. If you feel like eating lamb for lunch or dinner, this is the place to go on 10728 Fairfax Boulevard. At Kiroran, you can even pre-order a whole, roasted lamb for an unforgettable feast for a considerably large group of companions, say 10 to 15 people, from work or elsewhere. All that you can think of at an Uyghur restaurant — the Samsa meat pastries, Laghmans, other noodles and kebabs — are also tastily served here. It is equally a good choice to enjoy a take-out or delivery from this place. Just keep in mind that it closes at 09:30 p.m. from Monday to Wednesday, slightly extends it to 10:00 p.m. on Thursday nights and is more conveniently accessible till 10:30 p.m. the rest of the week.