Walking north on the 7th Street from The National Mall would land D.C. visitors on a particular spot offering an unusual yet spectacular view, a 60-feet-high gate opening into the glamorous Chinatown.
As a majestic work of public art for over three decades, Friendship Archway stands proud today with seven colorful roofs and countless ornaments, representing the D.C.-Beijing sisterhood. And Chinatown it leads to is no less an attraction for tourists and residents alike.
Here, they may find some of the best Asian food, sports fun, musical entertainment and museum inspiration in the entire capital city. Their to-do-list will be a pleasantly long one.
Join Chinese New Year Parade
Let's start reviewing what D.C.'s Chinatown has to offer with its signature activity, the 15-day celebrations held for the Chinese New Year.
Those festivities begin with the New Moon on the first day of the New Year and end on the full moon 15 days later. In plainer English, they generally fall between late January and late February each year. In 2020, for instance, the first day of the Chinese New Year will be on January 25 and the celebrations will last for the following 15 days after that.
As part of the celebrations each year, a parade takes place on the H Street between the 6th and 7th Streets, featuring the traditional Chinese Dragon Dance, Kung Fu demonstrations and various live music performances.
Other events include film screenings and art/photo exhibits, as well as traditional Chinese calligraphy and various entertainment activities geared specifically towards children.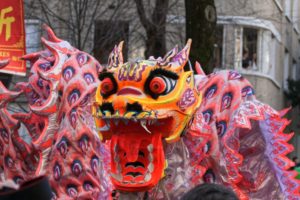 Let a Celebrity Chef Cook for You
If you are lucky and in town at that particular time of the year, you can make it to the area to catch those New Year celebrations, but there are certainly many other things that you can do almost any time you like here. Among them, savoring the most delicious Asian food deserves priority recognition.
That is, because there are more than 20 restaurants and bars owned by local families in Chinatown that could hardly disappoint their guests. With plenty of vegan and vegetarian options, as well as savory meat, chicken and fish specialties, they conveniently serve all tastes and dietary preferences.
Before reviewing the ones offering traditional Asian food in the most flavorful way, however, let's first pay tribute to a famed yet non-Asian celebrity chef, José Andres. The Spanish-American food curator has two of his restaurants located on the 7th Street itself: Oyamel and Jaleo.
So, if you feel like giving boiled octopus a try with "Pulpo a la Gallegaor," rather than going with your usual tortillas or croquettes while in the area, they are as good as they get in all of the District.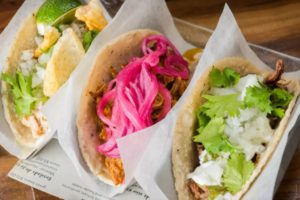 Savor Most Delicious Asian Food
And if you are here particularly for the Asian, and only Asian, cuisine, here are the top three spots for the best such experience in the neighborhood:
Eat First at 609 H Street NW is the least expensive of all. You can get a full bowl of Wonton Noodle or Egg Drop Soup for only $2 each. Granted, this is not a place you should go for ambiance or authentic decor.
Yet if your intention is getting a quick and delicious Chinese meal, know that nowhere else supplies as much and as good for the same prices. You can add two Spring Rolls for $3.20 or, on days you have a bigger appetite, an enormous Beef Chow Fun for under $12.
The name Tony Cheng can strike previous visitors as either a Mongolian or a Chinese restaurant or just a completely different one serving seafood alone. The same owner actually has all the three on the H Street, a primary stretch for major attractions in Chinatown.
The Mongolian and Chinese restaurants are at door number 619 and the seafood restaurant is at the adjacent building, number 621. No matter which one you choose, they are all there to see you off fully satisfied with what you eat and drink for what you pay.
Finally, and possibly the most tastefully, there is Full Kee Restaurant at 509 H Street. Having been around almost ever since migrants of Chinese origin began to settle in the neighborhood over half a century ago, this unpretentious place accommodates its guests with the most authentic Cantonese food for decent prices.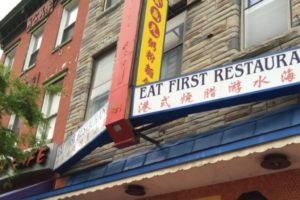 Hit DC's Largest Entertainment Complex
Chinatown also features D.C.'s largest entertainment complex, the Capital One Arena.
A truly state-of-the-art facility, it is home to the 2018 AFL Champion Washington Valor, NBA's Washington Wizards, the NHL's 2018 Stanley Cup Champion Washington Capitals, WNBA's Washington Mystics and the NCAA's Georgetown Hoyas men's basketball team.
Boasting an average of 220 events per year, not only sports games but also acts and concerts by performers, both Asian and non-Asian, worthy of the Arena, it has hosted 47 million people and more than 4,500 events since it was opened in 1987.
So in Chinatown, it is highly likely to run into friends and neighbors who have come to enjoy what the Arena features on a particular day. And if you haven't already done that, there are all the reasons in the world to join them to watch a basketball or an ice hockey game on site or listen to Beyoncé and Red Hot Chili Peppers when they are next performing on the stage here.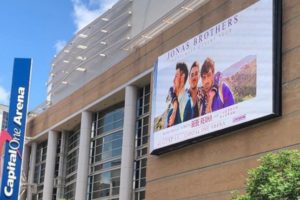 Don't Miss Neighborhood Museums
And finally, if you are into doing something else more inspirational here, it will be good to know that the area is also conveniently close to several, top-notch museums.
For the likeminded, any trip to D.C.'s Chinatown can be wonderfully crowned with a visit to the International Spy Museum where you can even go undercover yourself and feel what it is like to be a spy, testing your skills as an agent as you travel the facility's permanent exhibitions. Who knows? Perhaps one day, you, too, will join D.C.'s growing spy community.
The Smithsonian Institution's National Portrait Gallery and American Art Museum just across the street from the Arena are no less enthralling. Rather interested in lifelike wax figures of the U.S. presidents, athletes and celebrities? Then walk east for only another minute and you will arrive at Madame Tussauds. That visit will be just another reason to return to Chinatown soon again.