Realizing how far and wide outdoor cinema options become available in summer here, visitors might actually take Washington, D.C. for a resort town in the south.
So much so, our nation's capital cannot feel proud enough for offering as many opportunities to enjoy an open-air film screening on these beautiful summer nights. The fact that most of those screenings are also absolutely free makes it a pleasure conveniently accessible to all.
Next time you are in the mood for eating your snacks and sipping your drink while watching a classic flic or a new movie under the stars, head to the following locations for the best of such experience:
Drive-In at Union Market
As a true D.C. landmark for over two centuries, Union Market has always been a green unifier for people in town. Residents and visitors alike have had a habit of coming here for the freshest food, but it has evolved over time into such more amazing extents to include music, retail, hotel and residential uses, as well. Recently, outdoor cinema has been making a significant entry to people's list of options in the neighborhood.
The Drive-In at Union Market is back again through October this year, too. You may choose to come here with your vehicle and be borne as low as $15 an expense for parking or you can simply walk from the NoMa metro station and pay nothing for entry.
Then enjoy a picnic with ample food options from vendors and various pre-show activities to carry your movie night experience to a far more memorable level. The screenings with close captioning are every first Friday of each month.
The remaining schedule for this year is as follows:
Jaws on August 2
Coco on September 6
The Wiz on October 4
NoMa Summer Screen
While in the neighborhood, named for its location north of the Massachusetts Avenue, you can equally enjoy another and more frequently available outdoor movie option: NoMa Summer Screen.
Offering subtitled movies with free entry to all, the venue is at 1150 First Street NE. The screenings start at sunset every Wednesday until the end of August and the theme for its 12th season this year is "Who's Got Game?" featuring sports-related movies. Better get there no later than 7:00 p.m. to make sure you have a fine spot, because it is no less popular than the neighboring drive-in.
As usual, the festival has a fine line-up of movies this year:
Bend It Like Beckham on July 17
Remember The Titans on July 24
Bring It On on July 31
Cool Runnings August 7
She's The Man on August 14
Best In Show on August 21
Films at the Stone
Or if you want to discover another true D.C. landmark in another light, you can give family-friendly movie screenings as part of Films at the Stone a try at Martin Luther King Jr. Memorial.
Also absolutely free and open to the public, the film series feature stories of individuals who, against all odds, fought for what was right and whose lives inspire viewers to live the values of democracy, justice, hope and love, much like the great man behind all this inspiration.
There are two more screenings before summer ends this year:
Spider-Man Into The Spider Verse on July 18
The Hate You Give on August 28
They start at 7:30 p.m. on the lawn adjacent to the bookstore next to the memorial at the 1964 Independence Avenue NW.
The organizers advise guests to use public transportation to arrive at the venue, come as early as possible and not to forget packing a sack and bringing blankets or low profile lawn chairs to make their experience as comfortable as they hope.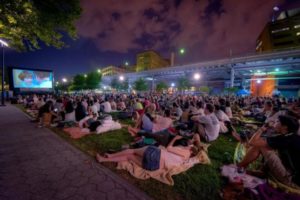 Sunset Cinema 
On Tuesday nights, those who are in town can also benefit from the most enjoyable outdoor movie experience right on the Potomac River.
Each year, the historic neighborhood's downtown association, the Georgetown Business Improvement District (BID), organizes the Sunset Cinema movie series on the waterfront.
This year's theme is "Out of Office" that features films about vacations and trips. Films start at sunset, around 8:30 p.m. but guests better arrive early to get the best seating and enjoy a picnic together. All movies include subtitles to make the experience accessible to the hearing impaired and non-native speakers, as well.
Here are the rest of the movies to be screened this season:
Sandlot on July 16
Little Miss Sunshine on July 23
The Parent Trap on July 30
Eat Pray Love on August 6
Capitol Riverfront 
And if you don't want to skip what is available by the other river the town is famous for, the Anacostia, either, then Capitol Riverfront Outdoor Movie Series is for you.
Every Thursday through August 22, guests are welcome to arrive at Canal Park, a 3-acre (12,000 square-meter) green space dedicated to seasonal markets and events in the developing neighborhood. Films start at sunset yet, as is the case with other options on our list, viewers would be better off by coming early to settle down and relax with friends and family for a memorable picnic.
Here is a sneak peek to the line-up of movies to be screened:
Ralph Breaks The Internet on July 18
Apollo 13 on July 25
Jurassic World: Fallen Kingdom on August 1
Guardians Of The Galaxy on August 8
Incredibles 2 on August 15
Bohemian Rhapsody on August 22
Golden Cinema
At the end of our list, let's review one last option downtown: Golden Cinema. A generous offering by the Golden Triangle BID, this final outdoor film series is, too, open to public and free to all who would like to spend a night out watching a fine movie.
Through August 2, the screening of select movies will take place at Farragut Square every Friday night. The line-up includes famous thrillers and fantastic films such as Incredibles 2 on July 19, Fantastic Beasts: The Crimes of Grindelwald on July 26 and Wonder Woman on August 2.
Suffering DC's Stifling Weather? Cool Down at These Rooftop Bars