When the wind is weak and the temperature rises over 90 °F, you sadly discover that a city is not a natural habitat for humankind as you desperately seek shelter in shady areas outside.
Those would be the times our forefathers used to leave for their summerhouses in the countryside. Today, however, not all of us have the same luxury. It is either because we cannot afford a second home or we simply cannot take the whole summer off anymore.
As a result, no matter how much we despise it, we have to survive those extremely warm weathers, made only worse with rising humidity, surrounded with concrete structures and queues of carbon-emitting vehicles in cities.
Well, nobody can offer you a miraculous solution to all that because nobody seems to have one, but for those who would equally accept an occasional relief, here is a good idea: Refresh yourselves at rooftop bars.
It just makes sense, doesn't it? With a higher altitude where the temperatures are supposed to be lower and the winds stronger, rooftops are certainly the places to be right now. Add to that your favorite cocktail or draft beer to enjoy and you may even feel richer and like your own boss right in Washington, D.C.
But where are the best of those places in town? They are not easy to find solely relying on your own instincts.
Among all the other online reviews and rankings, the following list — from the least to the most expensive option in D.C. — is our two cents. Better turn up that AC and read on:
Colada Shop
Of all the people in the world Cubans are one of the nations who must know how to survive heat and humidity the best, given the sub-tropical climate on their island in the Caribbean. Thankfully, their expertise is also well represented here in D.C.
The Colada Shop at 1405 T Street NW has one of the most affordable yet incredibly pleasant rooftop bars in the entire city. Both food and drinks, all prepared in the flavorful Cuban style, are reasonably priced for sure even outside happy hours.
You might yet be even luckier to hit this place for an all-night happy hour on Thursdays and take in as many as you could from the $6 cocktails and $2 empanadas.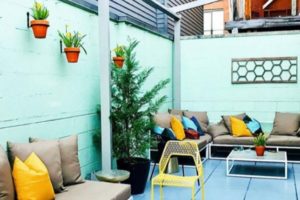 Red Derby
At 3718 14th Street NW is your ultimate dive bar that offers really good vibes with friendly atmosphere both inside and outside at its patio and rooftop: Red Derby.
On any night of these hot summer days, you can check in this place as casually as you like and leave it after a few hours much cooler and refreshed for as little as $30 in total. I cannot think of any excuses why you shouldn't.
Like Colada Shop, it offers all-night happy hours on Thursdays and between 5:00 p.m. and 8:00 p.m. every other night of the week when all drinks will be $1 off.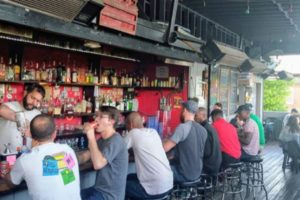 Hive Bar  
In winter and cold, breezy, rainy weathers, most people come to Hive Bar for its delicious pizzas and look forward to trying its rooftop, where you can equally enjoy your bites and drinks.
Located inside a hotel at 2224 F Street NW, the place is now just perfect with its open-air offerings. Being in a very safe area with decent amount of street parking, it is very easy to come here driving, as well as via public transportation.
The rooftop bar also makes a dazzling venue for parties like birthdays, college reunions and all types of anniversary celebrations. See a fine gallery of pictures of what it looks like in and out via this link.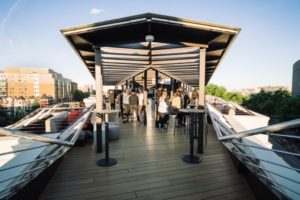 El Techo
Nachos and margarita, anyone? They are what El Techo provides the best as a great Latino spot at 606 Florida Avenue NW.
Stepping in, you will feel like having climbed up the tree house of your childhood. The wooden decoration, the flowers and branches dangling from the ceiling will make sure you are taken out of your usual urban context and you start relieving right away.
Believe me, it is no less helpful than a good meditation. The only difference is here you get to keep your eyes open, as well. All cocktails are $8 each and for the beer-aficionados the cost for a full glass would even be half.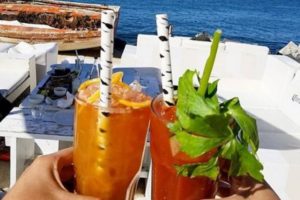 Perry's
Adams Morgan easily qualifies as one of the best neighborhoods for nightlife in Washington, D.C. and it is full of fun spots for food, drinks and music that remain open till early morning. An adventure to this part of the city, however, would be incomplete without a visit to a particular Japanese restaurant: Perry's.
A neighborhood diner of over 30 years in the area, it offers all the amazing specialties, in terms of both food and drinks you can think of being Japanese. Its seasonal rooftop just makes the whole experience much better during summer. It is exactly the time of the year to go see how far and wide the place would blow your mind away.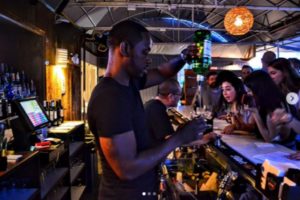 Roofers Union
While in the famous neighborhood, however, most people won't regret going instead to Roofers Union as they run for safety from the heat. It certainly lives up to what its name suggests as an open-air spot you need the most these days.
At 2446 18th Street NW, the restaurant's rooftop boasts beautiful views from the busy neighborhood for those who would enjoy them with their cold craft cocktails in their hands.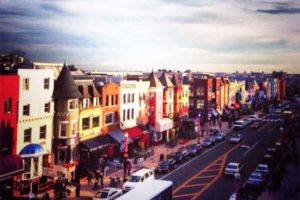 La Vie
Let's now move rather a bit south of the city and make some space for fancier spots better overlooking its soothing waterfront.
La Vie at 88 District Square SW is one of those places where you can enjoy the Potomac River that leaves a wonderful impression on viewers. Just consider the area, District Wharf, when you make payments to avoid disappointment with your check. Make no mistake, this is a popular spot buzzing with people with richer resources. Even the term "happy hour" is replaced by "golden hour" here.
Just sit back, take a sip from your drink and enjoy the view from the Washington Channel.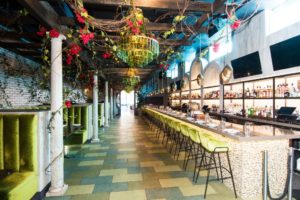 Whiskey Charlie
At District Wharf, another elegant spot is Whiskey Charlie and it even costs somewhat less than what you should pay at La Vie. The only downside is that it doesn't accept reservations and because it is small it can get packed very quickly.
For those who are keen on making it here early to be allowed in, this place would prove an amazing summer fun. With nautical vibes and reinvigorating cocktails, it becomes its best during sunset. Totally "instagrammable"!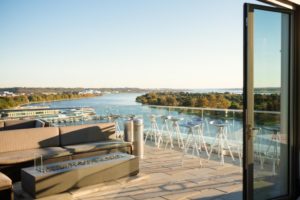 Top of the Gate
Finally at the end of our list is the most luxurious of all, Top of the Gate at the Watergate Hotel. Hands down, this is where you can get one of the best, 360-degree rooftop views of the nation's capital.
Granted, it is not for everyone since the prices here are on the high-end, but for those who can afford or would like to try it at all costs, it certainly wouldn't be a disappointment. Click here to see an amazing gallery of pictures of what you, too, will be looking at if you decide to stop by this summer.