Ho-ho-ho! Here comes the best time of the year. And no matter if your little ones behaved well or could have just done a little better than they did, it won't hurt to let them cozy up to Santa Claus before he filled their stockings.
Well, you and your kids are lucky for being in D.C. to be immersed in a true Christmas experience full of fun. You can find the jolly gift giver at so many places around the city and doing so much more than just listening to cuties' wishes.
Although the most convenient option would be heading to a nearby mall or a museum, the District features so many opportunities to see the portly man in the red suit.
Read on to find out where your best chances lay across town.
Malls with Expansive Christmas Stands
The post-Thanksgiving holiday season is a golden opportunity for retailers to boost their annual profits. So they heavily invest in projects that could bring in customers en masse. Employing a Santa impersonator of their own is the least they could do and they often go beyond that.
In downtown, Mazza Gallerie is a fine mall to meet Kris Kringle while also yielding to your fashionista alter ego. At 5300 Wisconsin Avenue NW, it offers various packages on photo ops with him.
Outside the city center, you would do yourself a huge favor if you stop by Tysons Corner Center in Tysons Corner or Tysons Galleria in McLean.
Both of the Northern Virginia malls have already put on large Christmas displays with everything Santa: Stories, gifts, elves, sleighs and a whole set of apprentices. Dulles Town Center further West and The Mall at Prince George's in Hyattsville, Maryland, won't disappoint you, either.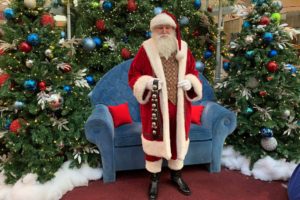 Behold! Here Are Water-Skiing, Train-Riding & Partying Santas
True, there is this general depiction of Santa in his reindeer-drawn carriage with a bag full of presents for kids and it's beautiful. But, how about giving it a few fine touches this year and seeing if little ones would like him even better?
Since 1986, actually, this revered Father of Christmas has been skiing over the Potomac River each December 24. To catch this year's show by Water-Skiing Santa, head over to Old Town Alexandria waterfront.
It starts at 1:00 p.m., but make sure you arrive early so that you could get a spot with a nice view along the chilly coast. Afterwards, Santa and his merry crew greet families and children in the pavilion on the waterfront and behind the Torpedo Factory Art Center.
Earlier in the month and during the days leading up to Christmas Eve, there are two other phenomenal Santa events. But they are up north in Maryland.
For your kids to ride the rails with Mr. Claus in his big red coat, take them to 'Holley TrolleyFest' at National Capital Trolley Museum. The show will be on from 12:30 p.m. through 4:30 p.m. on each of the following days: December 21-22-28-29. Find it at 1313 Bonifant Road in Colesville.
And if your kids would be more into participating in a pajama party with the portly-jolly saint, take them to Prince George's Sports & Learning Complex at 8001 Sheriff Road in Landover on December 21. There, they can wear their onesies and celebrate the joys of the season with Santa Claus himself, enjoying holiday crafts, storytelling, holiday music, games and more!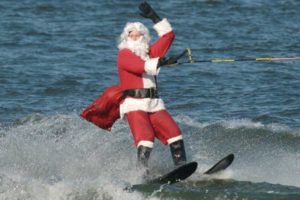 Rejoice at Christmas with Ultimate Winter Fun
The good thing about Christmas in the Northern Hemisphere is that it is in winter (unlike in the South where December 25 is a hot summer day and people joke about having a Christmas in July) and one particular establishment, at least, has been wise enough to let its visitors combine Christmas with various winter-specific activities.
Every December, Gaylord National Resort & Convention Center in National Harbor, Maryland, presents its Christmas Village where it is not only possible for children to have a photo with Santa, listen a story from Mrs. Claus, hop on an indoor carousel or a miniature train, but also to join in all the winter fun such as reindeer rush ice tubing and ice skating.
Watching the 1957 Dr. Seuss classic — How The Grinch Stole Christmas! — as part of the must-see holiday attraction –ICE — will also be an enormous plus to your itinerary. It's always an amazing place for children to be since everything inside is hand-carved from ice — a whopping two million pounds of it!