The best part of being in D.C. between Thanksgiving and New Year through Christmas is to see the city put on a glowing holiday gown, embracing its audience with such warmth that the winter chills cease to exist.
Each year, holiday lights remind people of the perks of living here, revive the urban spirit and strengthen the collectivity among city dwellers. They are great tools to help build a community out of, otherwise distant, neighbors and individuals.
The following places are where you can enjoy being part of a more meaningful whole in town: 
CityCenterDC
At downtown's signature neighborhood for quality retail and dining, we always feel like being teleported to a better time than ours.
Our experience becomes even more transformative when the mixed-use development starts displaying Dream Closet — an installation of bright snowflakes dangling from above. Strolling under, visitors of all ages have great fun.
Come join us on Palmer Alley NW! That's certainly the least you could do this holiday season!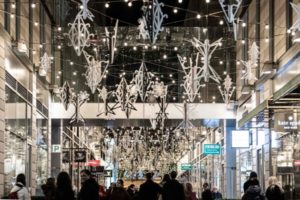 Nationals Park
For more, no living soul in the capital should miss the world's largest Christmas light maze inside the Washington National's home arena.
As part of the annual Enchant Christmas event, the ballpark also features a massive Christmas market, a skating trail and dozens of live entertainment.
Ticket prices vary between $20 and $40, depending on the day and time of your visit. It will be open till December 29.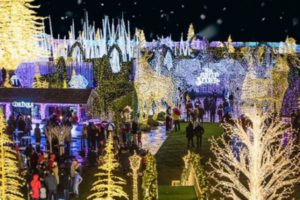 National Zoo
An equally spectacular event awaits you at the Smithsonian's National Zoo for absolutely free of any charge. The ZooLights, featuring over half a million LED lights till January 1, invites Washingtonians to a winter wonderland.
There are live music performances, tasty winter treats and plenty of holiday shopping opportunities. Plus, you can enjoy the sight of dozens of life-size, glowing animal lanterns and stroll through thousands of reflecting lights as part of the interactive art exhibit Entre Les Rangs (Between The Ranks), this year.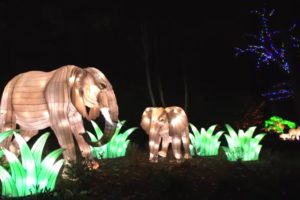 Georgetown
As has become traditional in the city's oldest neighborhood, the annual outdoors light-art exhibit GLOW returns to Georgetown with its sixth edition this year.
Throughout the neighborhood, home to some of the capital's finest restaurants and haute couture boutiques, there will be hundreds of works lit between 5:00 p.m. and 10:00 p.m. every night till January 5.
In addition to the month-long exhibition, you can enjoy special in-store promotions at dozens of retailers here.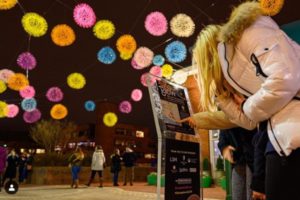 District Wharf
And finally, the latest addition to the attractions landscape in town — the phenomenal District Wharf — also joins our list with thousands of waterfront lights this year.
For as long as the coastal weather permits, there will hardly be any other location to combine shopping, dining, hiking, jogging with a true experience of this year's holiday light works in the city.
While the adjacent Maine Avenue Fish Market already gives a perfect reason to be in southwest D.C., just make extra time for the brightest holiday shines.
Enjoy DC as a Coastal City at The Wharf with Countless Activities