Behind today's Cuba is centuries of migration to and from the island, struggles for its control, colonization and economic hardships. As sad as its history might be, it also has brought about a delicious blend of various culinary traditions and cooking styles. Ladies and gentlemen, get ready to fall in love with the Cuban cuisine.
In the typical Cuban kitchen today, there are indigenous, Spanish, African, Caribbean and Central American influences. Dig deeper and you will also discover some French and Portuguese impacts, albeit to a lesser extent, as well.
The fact that all those have, over the years, challenged and interacted with each other is obviously one of the major reasons why the current amalgamation is extremely rich and full of flavors. But it still fails to fully explain the magic touch of the Cuban food. For that, we should also account for the times when the island remained, at least partly, out of reach of foreign influences.
Cubans: Absolute Food Curators
Living off the land was always a phenomenon for the island's indigenous Taino people. Part of their cooking traditions is unsurprisingly obsolete now. Nobody obviously eats iguanas over there anymore. Nor is it possible to find any earthworms to devour as snacks to maintain a particular protein diet in a Cuban restaurant now.
The idea — turning whatever is available at the mercy of Mother Nature into a nutritious dish — however, reverberated through the island's cuisine much later. The ongoing U.S. embargo, for what is right and wrong, since 1960, for example, has prompted the islanders to make up for whatever went off the shelves as a result.
On the back of such a heritage, Cubans have proved themselves as highly successful food curators. That is why any visit to the island always brings back home memories of unforgettable dining experiences.
No matter where you go from east to west there, you always end up eating amazing food at almost no cost. Luckily, by paying a little more than on the island itself, people could enjoy the same food here in D.C., too.
The following is a list of simply brilliant Cuban diners in town and what to best eat there: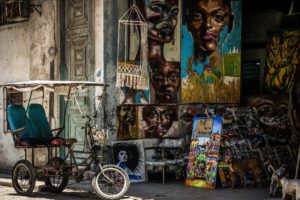 Havana Cafe
In one word, Cubans are survivors. So should their food be. And "yucca" is just as such.
The root of an impressively drought-resistant plant — Cassava — rich in various vitamins and minerals, as well as carbohydrates, yucca has a potato-like texture, but tastes much better. You can bake and fry them just like potatoes. And adding rice and black beans, which are so common in the Cuban cuisine, together with your choice of meat, fish, chicken, would create the easiest yet also cheap and delicious dish you can have in the Cuban style.
One underground joint at 1825 I Street NW could do all that for you for less than $10. An incredibly satisfying breakfast might even cost nearly half that. Plus, its food is consistently fresh and the service is totally unreal for its prices.
There certainly is a beautiful, yet mysterious, philosophy the owners must have embraced to make that unworldly combination possible.
So, you'd better take this piece of advice now and go find Havana Cafe, where you will regret not having done it earlier.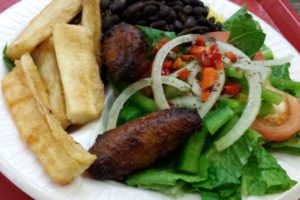 Colada Shop
Despite their entire struggle for survival, Cubans are incredibly joyous and love to entertain themselves at every opportunity, round the clock, throughout the year. So much so, visitors to their island often feel compelled to join them and, in doing so, their spirits get higher than ever before. Colada Shop at 1405 T Street NW is one particular Cuban establishment in town to see in person how they do it so skillfully.
It actually is a restaurant/bar that we previously featured as one of the best rooftops in D.C. The fact that it has this beautiful terrace and offers everything from main courses to desserts to drinks, both hot and cold, at unbelievably reasonable prices even outside the generous happy hours every Thursday make it a true treasure.
Everything of pork, as well as chicken and turkey, is so yummy here, but my particular suggestion would be their veggie sandwich for it is an authentic Cuban delight containing the freshest ingredients.
And there is a longer history behind it than there is behind anything beefy or grilled. The first time a pig stepped on the island was when the Spanish voyageurs brought one with them onboard their giant ships in the late 15th century. Never before had any Cuban had any pork.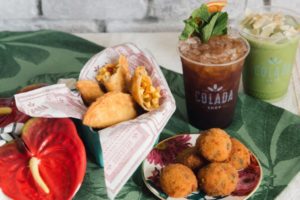 Mi Cuba Cafe
The only Cuban restaurant in D.C. that could challenge the solid authority of the first two on our list is Mi Cuba Cafe.
At 1424 Park Road NW, it is a dive-in-the-hole sort of small diner with a bar where you can eat some of the most authentic Cuban food and have the friendliest conversation with the staff in the meantime. I just cannot think of any reason why any patron could leave here with less than what he or she expected. The food, service, prices and parking are all but perfectly pleasant.
If you have never been to a Cuban restaurant before, I would definitely suggest you order a "Ropa Vieja" with shredded beef and vegetables next to rice and "yucca" fries. Make sure you also have a cold mojito to make all that go even more nicely together and crown your experience with their signature lime pie.