Seeing Washington is fun. Even when most of its colors subside under the darkness of late hours, the city continues to enchant visitors. And arguably, major attractions in town become even more beautiful in their dazzling nocturnal gowns. Hurry up now and catch a wonderful night tour of the nation's capital while you still can before the winter chill arrives.
NPS
Let's start reviewing providers of such tours by the one that is the least expensive. Don't get me wrong! I am well aware of how the word "free" suggests low quality in many contexts but it is different here. Offering night tours of the memorials within the National Mall, the National Park Service (NPS) actually does a great job.
So, go check out when the next of those tours is from their online calendar of events. You will have zero regrets for having joined a ranger for a walking tour of the Jefferson, Roosevelt, Martin Luther King, Jr. and other memorials in the area.
You will, too, discover how not only knowledgeable but also personable those rangers are. The fact that you had to pay nothing for having such an informative and friendly session will then seem simply unbelievable.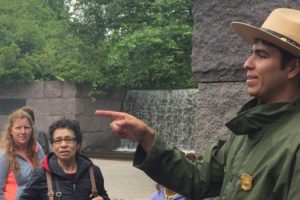 Sam & Sal
But if you insist on paying to see more than just the memorials outside the National Mall, then it will be good to know that there are amazing tour companies at your service. One of the best of those businesses is Sam & Sal.
Co-founder George Ghiorghis came to the U.S. as an Eritrean student almost 40 years ago. He had to work while he studied to make a living. He spent all his time with hard work and dedication in pursuit of making here his new home.
And he did that so well that after having worked as a concierge in one of D.C.'s premier hotels for over a decade, he is now a licensed tour guide and runs his own company. By working with Sam & Sal, you will always feel how serious he has learned to take what he has been doing for all these years.
So, go ahead and book a night tour with him and you will realize how immigrants could contribute to this country not only in manufacturing and with blue-collar jobs but also in areas more intellectual than physical, with services comparable even to that of professionals with PhD degrees. The perfect ratings Sam & Sal gets online will no longer look like a surprise then.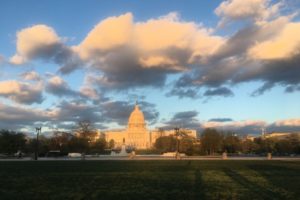 BiPartisan
Equally popular among online reviewers are two companies. The first one is BiPartisan Tour Company. Here for $59 for each adult and $44 for every other member of your group under 18, you can purchase a night tour that lasts about four hours.
The attractions participants get to visit include the U.S. Capitol, the Washington Monument and the White House, as well as nearly a dozen memorials in town. The tours normally start when a company bus picks up participants at a meeting point previously agreed on between the company and each group.
Yet for those staying within a 2-mile radius area of the National Mall, there is also the option of hotel/vacation rental pick-up. Either way, the bus then takes its guests from one location to another, with tolerable walks at times.
The company's guides offer live narration on the bus, during the walks and at the destinations. Groups are free to fit in dinner, or a shorter snack time throughout their tours.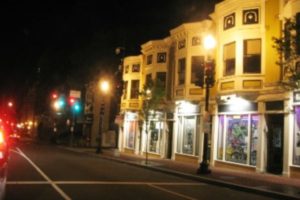 Custom Tours
If you could use more suggestions, know that the other company with as big a popularity online is Custom Tours. And what distinguishes it from others on this list is that it fully customizes tours according to clients' preferences.
So, if you have a special itinerary in mind and can't seem to have it accommodated elsewhere, get in touch with Custom Tours to make it happen. If not, they also have a four-hour-long generic night tour from one to another memorial within the National Mall.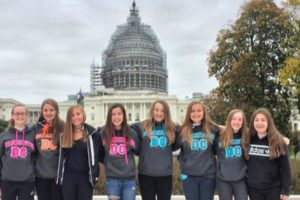 Nightly Spirits
Especially when Halloween is approaching, but at other times as well, a rather spooky tour of the city's greatest attractions may seem more preferable for some. For those likeminded, the Nightly Spirits is the best company to work with. It actually is a larger company than the others on this list for it serves many locations across the country.
And in D.C., it has a popular White House pub tour. That includes a walking ghost tour on the National Mall, by three-four attractions in the area. At every stop, your guide in special costumes will tell you a frightening story and you will also have a chance to catch a drink.
It takes around 2.5 hours and costs $25 per person. All tours depart at 8:30 p.m. from the Occidental Grill, at 1475 Pennsylvania Avenue NW.