Washingtonians were super happy when the news emerged that the District would finally have its own climbing gym next year. Till then, however, they will continue to make the trip to either Virginia or Maryland every time they crave a vertical adventure.
It is because the greater metro area, or DMV, has only several such establishments and all are outside the D.C. borders. The fact that they offer a non-disappointing experience to climbing enthusiasts is, nonetheless, something to take solace in.
If you, too, are intending to clear your mind in solitude on what look like truly invincible obstacles and burn a really good deal of excess calories in the attempt, here is a quick look at where and how exactly they do what they do:
Sportrock
The farthest to downtown D.C. of all the few climbing gyms in the DMV are ironically the ones with the tallest obstacles. Those are the two facilities run by Sportrock Climbing Centers (SCC), one in Alexandria and the other in Sterling, Virginia.
With a quarter century experience in the market today, SCC does not only provide climbers of all ages with the most challenging walls with a top-nudge routesetting inside a well-maintained gym, but also terrific educational programs and fitness options to support their physical and mental improvement.
Here, you can expect several boulders from 10 to 14 feet tall and walls as high as over 60-feet. The business requires all sportspeople to first watch an instructional video and sign a participant agreement. That is a common waiver practice with climbing gyms across the country, which basically aims to raise awareness on various risks inherent to climbing.
The business offers two types of visits, one through membership and another with a day pass. Membership gives you two options: You can prepay $100 for a month of unlimited visits or sign up for longer with a monthly recurring fee of $70 plus a one-time activation fee of $49 for the same benefits. The price of day passes ranges from $20 (single day) to $170 (10-day).
Within a group of at least five people, you can also hold what SCC calls a "climbing party" at both of its facilities. That entails 90 minutes of climbing with professional instructors and full gear. You will then have an additional 45 minutes to relax and celebrate in private party rooms with certain amenities. The price is $30 per person.
Both locations are open all days of the week. They are at 5308 Eisenhower Avenue, Alexandria and 45935 Maries Road, Sterling.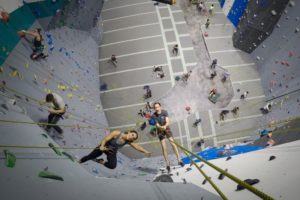 Earth Treks
For about the same experience, though, you may want to spend less time behind the wheel and drop in at one of the Earth Treks locations just outside D.C. — one in Crystal City, Virginia, and another in Rockville, Maryland. Before the nation's capital embraces its own climbing gym in the NoMa neighborhood, those two will remain the closest to downtown.
At both locations, you can expect to see hundreds of routes and boulders with thousands of feet of total climbing area in addition to yoga and fitness studios. 
Like SCC, Earth Treks offers both day passes and various memberships. You can become a member for a single month for $120 or place more trust in their reputable services to establish a longer relationship with a monthly recurring fee of $93.
There is also the option of prepaying a full year's membership fee ($1,045) for those who would like to save even more money on their climbing adventures. Less frequent users could find it more reasonable to rather choose between a single-day pass for $26 and a seven-day pass for $150.
The business, which has three other non-DMV locations further north in Maryland, also makes available climbing classes. Regardless of your previous experience and skill set, you can sign up for a specific class Earth Treks instructors are teaching. There is also the option to organize a gathering for your group of fellow climbers so that, the business promises, they could enjoy "a party like no other."