Washington, D.C.'s Georgetown has a unique charm for various reasons from history to architecture and urban amenities. It is where a buzzing nightlife extends into early morning and an amazing food scene certainly adds so much to it.
Visitors to the nation's capital, therefore, have all the reasons in the world to head to this part of the city to crown their D.C. expedition by dining here. Compiled in their footsteps, the following list features some of the best restaurants in Georgetown.
Falafel Inc
Online reviews are always helpful as long as you know how to make sense of them. And the way to do it is to eliminate the distant best and/or the distant worst ratings — the outliers from a statistical point of view — and consider what most people agree on or converge to regarding basic qualities of a business — the effectively guiding common sense.
When it comes to reviewing Falafel Inc, people have done almost the unthinkable by expressing a near uniformity in their assessments. Of all the 452 reviews posted on Yelp since 2017, bible for most foodies, a whopping 440 have awarded the business either a five-star (383 users) or a four-star (57 users) rating.
The remaining 12 users, therefore, automatically become outliers on the low end, leaving us with an astonishing impression. What we are talking about here must be a nearly perfect establishment. And so is it.
Here, you can buy the most delicious and satisfying sandwich for only $3 and a full bowl of falafel, a spectacular gift from the Middle Eastern cuisine to the world, for just $1 more.
All the sides from various salads to hummus and fries, as well as whole drinks, are available for $3 alone, too. And the best part is every meal you order at Falafel Inc helps feed a refugee in need, hence the business' motto is "Eat with Dignity." What it provides in the process is flavors to always return to and a cause to constantly feel proud of supporting. It is at 1210 Potomac Street NW.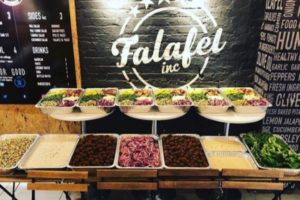 Dog Tag Bakery
For about the same prices, Georgetown residents and visitors have an equally delightful alternative: Dog Tag Bakery. Located in just walking distance to the neighborhood's mesmerizing Waterfront Park at 3206 Grace Street NW, it is definitely a must-visit to grab a pastry and a cup of coffee when you most feel like it.
Such a lovely place for everything baked, it is already a great hit for many people in the area and its cause — supporting veterans and their families — helps draw even more customers here. The result is an incredible reputation for such a small bakery.
The non-profit also has an online shop and provides catering for all types of events — college reunions, celebrations, corporate meetings, etc. — for a wide range of customers in and beyond the historic area by the Potomac River.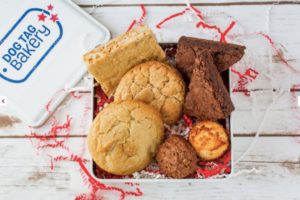 DCG
If you will, let's now make a detour and pay another visit to the dazzling Middle Eastern food abounds in the neighborhood. And to make the right choice of all the options available, I would totally recommend trying District Chicken & Gyro (DCG).
At 3147 Dumbarton Street NW, what this business does is a true representation of various Middle Eastern cuisines. If you specifically crave marinated lamb or chicken, this is ultimately the place to go to. Their prices are just slightly above those of Falafel Inc and Dog Tag Bakery.
The business particularly stands out as a halal spot. So, for those of you with religious concerns regarding what you eat and others who would equally like to give halal offerings, which exclude pork, fat and alcohol in preparation, a try, DCG could be hardly bested in Georgetown.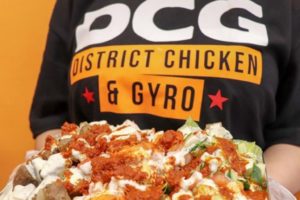 Bandoola Bowl
Within the same price range as DCG, you would also be near perfectly served by Bandoola Bowl, a Thai/Vietnamese/Burmese eatery, at 1069 Wisconsin Avenue NW.
And unlike previous businesses reviewed on our list, this is a family-owned establishment that has put a lot of thought in its interior design, so I'd definitely recommend eating in if you have time, rather than taking out or ordering online.
Your experience here would particularly be unforgettable if you are already in love with greens. That is because salads play a significant role in the region's cuisine, where vegetables and cabbage offer a base for toppings and toss-ins like fried garlic and onions, crispy yellow split peas, crunchy peanuts and sesame seeds.
Not only are these Southeast Asian salads brimming with freshest ingredients, they are also diverse, delicious and full of different textures and flavors.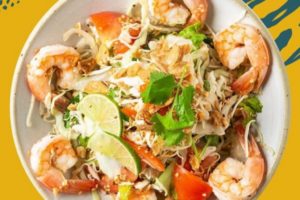 il Canale
How can we not include a pizzeria for Georgetown since it is also a major neighborhood for college students, particularly from the globally prestigious namesake university?
That would have been an immense injustice to il Canale because it is where even Italians themselves go to eat Italian, specifically featuring gourmet thin-crust pizzas cooked in a wood-fired oven imported all the way from Naples, Italy.
It has an open kitchen with various other options, ranging from calamari to lasagna to gnocchi, and a bar that offers a wide selection of mind-twisting wines from the Mediterranean. I cannot just picture how it could have been better.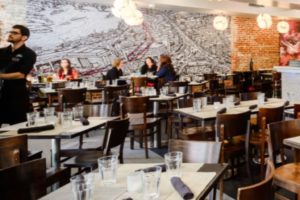 Chez Billy Sud
Yet without the French wing, no Mediterranean culinary experience could be complete. Thankfully at 1039 31st Street NW, there is Chez Billy Sud near Washington Harbor, a restaurant that we previously featured as one of the Best D.C. Restaurants for Zero Disappointment on Your First Date.
It is where Chef Brendan L'Etoile most skillfully presents an exquisite dining opportunity on Southern France's seafood centered cuisine. No matter what your favorite is from it — sea bass, tuna, trout, salmon, mussels, etc. — this is one of the few places to have it served as good as it gets, not only in Georgetown but in all of D.C.
Steak lovers, though, would love it here just as much. Not everything is comparable to the kind of steak, a giant one next to the yummiest fries, you will get at CBS.
Finally, decor here deserves a separate paragraph, as the restaurant is inside a cute little historic house and has a perfect French feel. That guarantees to mentally move you to a restaurant in Paris itself.
Just be mindful of what you will have to pay for all those flavors and sentiments, certainly higher than what you would at il Canale.