With a small number of kid-friendly bars, our nation's capital is not exactly a paradise on earth for parents who would like to have a night out with their children every now and then. Locating those establishments, therefore, would be a real favor, like offering directions to oases in deserts, to big families.
Parenting is hard. Nobody challenges that. How people approach entire families trying to have fun at bars, however, is not in that much of uniformity here. Neither in thought nor in practice, many business owners and bargoers simply don't tolerate underage presence in places of cold drinks and intimate conversations.
The result is not only families struggling in desperate pursuit of places to enjoy their time together, but also a tremendous loss of loyal clientele for those uncompromising businesses.
There are, nevertheless, several establishments welcoming people with children, too. With a bit of upgrade in terms of their design, addition of some kids' items to their menus and compassion towards little ones, as well as their bigger halves, they are doing a fantastic job in accommodating their customers, both with and without kids.
Below is a list of those bars:
Moreland's Tavern
At 5501 14th Street NW is the first of such kid-friendly bars on our list: Moreland's Tavern. Owners Tony and Matt are incredibly personable and friendly to all their customers and chef Emily is simply a superb food curator for all tastes, big and small.
The kid's menu, brilliantly tucked into children's books, includes all the typical offerings any parent might expect of it: Spaghetti, burgers, fries, chicken tenders and meatballs.
You know you cannot blame your children for loving them and not much else when they are as little as they are. Quite frankly, none of us was dying for sautéed spinach when we were like them either.
So, I guess it would be best to yield to the overarching phenomenon that kids are kids and choose to spend our time together, recognizing their independence, as well. And when you do, Moreland's Tavern just gets more enjoyable with the level of understanding shown to whatever might go wrong with the little ones.
What else on earth would you need anyway, right?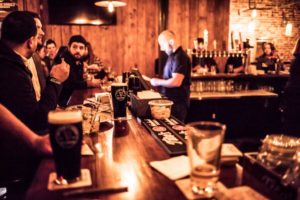 Old Ebbitt Grill
So, as parents, we need tolerance more than anything else from the bar we are visiting. And our experience just gets better at an establishment fancier, better styled and more historical, when the same level of understanding is onboard as in Moreland's Tavern. Old Ebbitt Grill is where you should go in town for that.
Specializing in seafood, this is a restaurant and a bar for over 150 years now. Besides, it is possibly the oldest saloon in the District.
And being just in walking distance from the White House and the U.S. Capitol, it is also buzzing with political aides and politicians themselves. Book your table online and dive into the depths of taste and hospitality it skillfully shows to all its customers.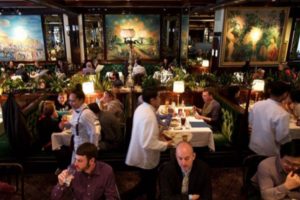 Capitol Cider House
Capitol Cider House at 3930 Georgia Avenue NW has taken accommodating families a step further by installing a play area inside, while skillfully treating parents its signature craft hard apple cider with modern flavors.
Once America's most popular booze, apple cider had almost completely vanished from the drinks stage when die-hard temperance advocates took up extreme measures to enforce a prohibition amendment to the very U.S. Constitution and a specific legislation that followed across the country in 1920s. Today, it makes a splendid comeback with breweries such as this one.
So, next time you are keen on bringing your children with you to a kid-friendly bar for a few drinks, you may have done yourself a huge favor by choosing CCH. Let your kids play while you are sipping a true American beverage. The fact that it showcases its production adds so much education to the bar experience here.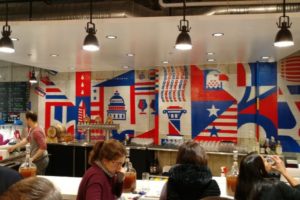 Paradiso Game Room
In beautiful Georgetown, there is your third option to enjoy your time as a family, one that brings together the ultimate game fun with delicious drinks: Paradiso Game Room. Downstairs from the businesses' pizzeria, it offers skee-ball, pinball, dartboard, shuffleboard and various arcade games that your kids would love being occupied with.
Every time they prove so delightful for little ones that it gets all of a sudden so much easier to spend true adult time with whoever's company you prefer on any day and night — your partner, friends or both — in their presence. You will discover that it is one of the greatest places in town to hang out and chill without leaving anybody grunting at home.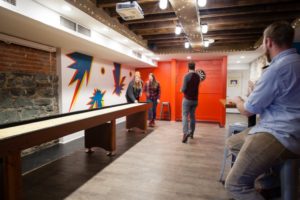 Jackie Lee's
Yet if your children are rather into video games, then you cannot possibly feel happier at any other kid-friendly bar than Jackie Lee's. At 116 Kennedy Street NW, it has a separate room with a full TV set up and Nintendo games.
Here, you can combine your kids' satisfaction with your experience of delicious barbecue and drink options at reasonable prices. Don't be alarmed for it is a tiny, hole-in-the-wall type of neighborhood dive bar, because the staff make all the difference, making sure that families spend as good a time as their fellow bargoers without children.
Amanda, Nick and Jason are receiving huge shout-outs every time regular customers are asked about their feelings about this place.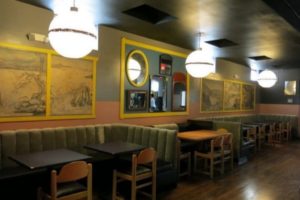 Purple Patch
Let's crown our list with an establishment that is actually mentioned in many culinary rankings. Purple Patch at 3155 Mt Pleasant Street NW is possibly the finest kid-friendly place in all of town. Like Jackie Lee's, but way more elegantly, it has a booth for children with various toys and books, along with a large multimedia screen that keeps all kids entertained at all times.
Originally a Filipino restaurant, it also has a nice bar with plethora of options to choose from. And the signature purple yam ice cream is a specialty that is just out of this world and your kids would always look forward to return to it. "Who knew a tuber could be this magically delicious?" writes the esteemed Michelin Guide on that unique dessert.
Just make sure you have a reservation to be seated here, because PP, unlike others on our list, is incredibly famous, though well worth of its quality, and hardly has available seats for casual walk-ins.